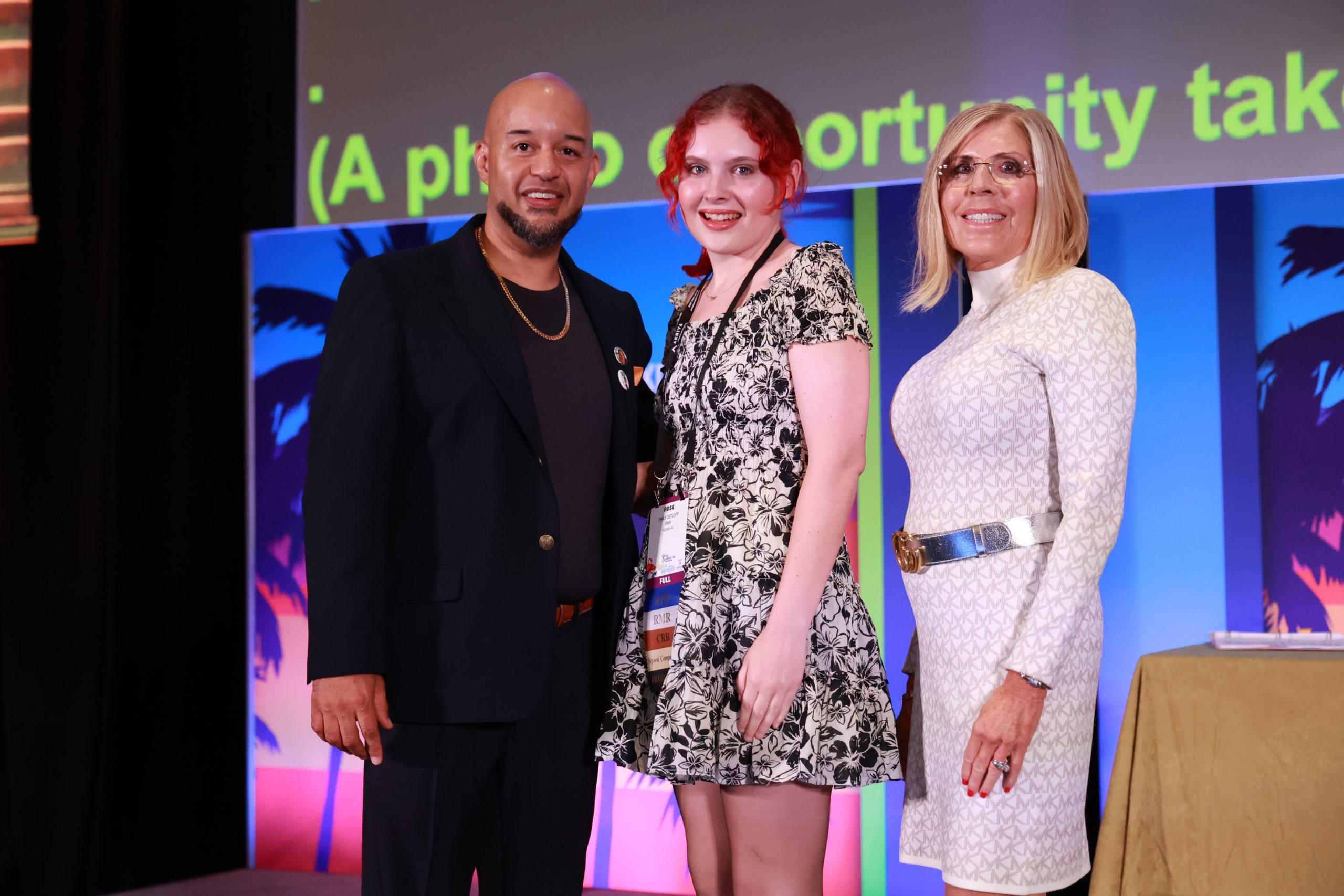 Rose Detloff (center) at the 2022 NCRA Conference & Expo in Orlando, Fla.

By Allie Hall

I was so excited when my friend Rose Detloff, RMR, CRR, decided to sign up for the NCRA Speed Contest for the first time this past summer at the 2022 NCRA Conference & Expo in Orlando, Fla. It's been something I've been doing for many years, and I love seeing new people come to the contests and compete.

And I was doubly excited during the Awards Luncheon on Saturday as they were announcing qualifiers to hear Rose's name announced not once, not twice, but for all of the Speed Contest legs — which means that she qualified overall on her very first time! I was so impressed, I reached out to learn a little more about her.

JCR | What jumpstarted your interest in court reporting?
ROSE DETLOFF | I always enjoyed my English and music classes growing up, and when I found out that this was a great career option for those with that kind of background, I was immediately enticed. After losing my job at the start of the pandemic, I had the time and freedom to be able to pursue this career, and it has been completely life changing.

JCR | How did you go about researching schools and selecting a program?
RD | The first thing I did when considering court reporting was check out Facebook groups. I came across the Encouraging Court Reporting Students group, and it was a fantastic resource to gain information about schools and state requirements. I quickly noticed the admin of the group, Allison Hall, was an instructor with amazing recommendations, and I reached out to her to help me find a program. I started her theory class through Oklahoma State University online the next month, and the rest is history.

JCR | You finished school in just 10 months in a part-time program. To what do you credit your schooling success?
RD | I am certainly proud of myself for how hard I worked in school, but I definitely credit my success to my incredible support system: My parents, friends, classmates, and teacher. Their belief in me never wavered, and their encouragement and support gave me the strength to believe in myself and stay determined.
JCR | At what point in your schooling did you decide that one day you wanted to participate in the NCRA Speed Contest? What made you want to compete?
RD | I love having a goal to work on. My teacher could see this and always gave me something to work towards. Once I got my RPR in September of 2021, we laid out the plan to get my RMR and be able to compete in the Speed Contest next to her that following summer. I have so much admiration for the reporters who compete, and after witnessing the Awards Luncheon at the 2021 NCRA Conference in Las Vegas as a student, I knew I wanted to be up there next time.

JCR | What do you feel is the benefit and importance of attaining your NCRA certifications early on in your career?
RD | I was always told by seasoned reporters through school that it is best to go for your certifications right out of school while your mind is still in "test mode." Even though I have only been working in the field for a year, I can already tell that it was solid advice. I am so glad that I got my RMR and CRR less than a year out of school, and the opportunities that they have already granted me have been unbelievable.

JCR | What importance do you place on networking in this field?
RD | Networking is everything! And, fortunately, court reporters are such a kind and supportive group that I have found networking to be easy and fun. All of the incredible opportunities that I have had so far have been because of a connection I made with a fellow reporter either through social media or a conference.

JCR | You competed in your first Speed Contest just seven months into your court reporting career. What was the experience like? Were the fellow contestants welcoming? Did you feel as though you fit in alongside the other contestants?
RD | The Speed Contest was easily the most fun and rewarding thing I have done so far. All of my schooling and work has been online, so actually being in a room full of reporters and steno machines was an amazing feeling. You could just feel the passion and excitement in the room. For being a total newbie, I never once felt unwelcome. It is a competition, but everyone wants nothing but the best for each other. The Contest and then the anticipation for the awards is exhilarating. I can't wait to do it all again.

JCR | You qualified across the board in all three legs of the 2022 Speed Contest. What was your goal going in?
RD | Whenever I go into a test, I try not to put too much pressure on myself. I try to look at everything as an opportunity to gain experience, which is what I felt going into the Contest. Realizing that I actually qualified in all three legs on my first try was the proudest I have ever been of myself.

JCR | Since you were awaiting your CRR test results at sign-up for the NCRA Realtime Contest, you weren't able to compete in 2022. Is it a goal to compete this year in Houston? Do you see yourself competing in both contests this year?
RD | Absolutely! I plan on competing in both contests, and I hope to see some of my new professional friends there as well.

JCR | What advice would you give to current theory students?
RD | Spend as much time as you can on your machine while studying theory. You want to cement those theory concepts into both your mind and your hands. Practice to your favorite songs and just write what you can get. Your theory is your foundation, so get as comfortable as you can with it before moving on to speeds.

JCR | What advice would you give to current speed-building students?
RD | The quality of your practice will always be better than the quantity. Pushing yourself and getting outside of your comfort zone is the key to gaining hand speed. Dance around your target speed: High speeds for speed, low speeds for accuracy. Do lots of finger drills. Start implementing breathing techniques and positive affirmations into your routine.

JCR | Now that you are winding down your first year of reporting, what advice would you give to a new professional?
RD | Find a mentor and other new professionals to connect with. Working from home, it has been incredibly helpful to have experienced reporters in my contacts to reach out to for questions regarding transcripts, software, the business aspect, etc. Having new professional friends has also been an incredible resource for figuring things out together and just being able to talk, vent, and compare how things are going.

Rose Detloff, RMR, CRR, placed 21st overall in the 2022 Speed Contest. In the Literary, she placed 10th; in the Legal Opinion, 22nd; and in the Q&A, 11th.

Allie Hall, RDR, CRR, is an official court reporter based in Tulsa, Okla. This past year Hall qualified on all three legs of the Speed Contest, even placing third in the Q&A leg, and she qualified in the Literary section of the Realtime Contest. She can be reached at allie441@gmail.com.