By Leah Willersdorf
Most professionals think their careers are the best in the world, right? Right? I mean, there's cabin crew, there's rock stars, there's teachers, there's beauty therapists, there's social media influencers, there's actors, there's TV celebrities, heck there's even accountants. But, really and truly, I know I am not alone when I tell you that the best career in the world is being an international stenographer (aka court reporter and/or captioner).
I began my career at the age of 19 in the courts system in Adelaide, South Australia, in 1995, after having moved there from Brisbane where I'd graduated from a two-year university course in Court & Parliamentary Reporting. During the course we were told that we would be able to work anywhere in the world. Anywhere? Yes, anywhere.
From pretty much the get-go, I was traveling around the state of South Australia doing the compulsory one-week stints of circuit court on Kangaroo Island, in Mt. Gambier, Port Augusta, and Coober Pedy, just to name a few. I was almost at the four-year mark into this career when I decided I'd go to London for the token two-year working holiday that most Aussies do. After all, we are so far away from Europe down there that it makes sense to go for what then seemed like a long time.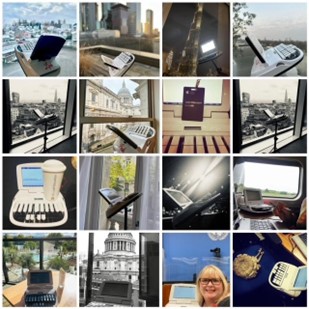 From about the beginning of my time here in the United Kingdom, which is now almost 30 years, I have been traveling for work and doing realtime stenography, which is where the spoken word appears as text on screens instantaneously. I started out covering military courts-martial for the court reporting firm which sponsored me for my working holiday visa, and I traveled to places like Northern Ireland, Cyprus, all over the UK, and various parts of Germany for those proceedings. I also covered international arbitrations at the International Chamber of Commerce – International Court of Arbitration headquartered in Paris (and have done countless times since) and also at the very famous George V Hotel in Paris. I covered Royal Commissions, American depositions, courtroom trials, coroner's inquests, meetings, conferences, police interviews and disciplinary proceedings, and the list goes on.
Since around 2000, I have been completely freelance and the oyster that is the world continued opening up to me to show me her pearly delights. I've not counted the number of countries nor cities I've been to and/or worked in, but it's as far flung as Tanzania — for a UN war crimes trial during the pandemic (a highlight of my career so far); it's as deep as a 12th century wine cellar in an Etruscan village in Italy — for U.S. depositions; and it's as wide-ranging as cities like Abu Dhabi City, Graz and Vienna in Austria, Herisau, Zurich, and Geneva in Switzerland, Vilnius in Lithuania, Dubai, Helsinki, Dusseldorf, Oslo, Frankfurt, Stockholm, the French Riviera, and on it goes.
The venues I get to work in can be, let's say, different, too: I've covered a year-long public inquiry at a Premier League football club in the UK; I've covered U.S. depositions in venues such as c.1840 windmill in the Flanders region of Belgium, in a converted English castle, in a Spanish theme park, and I've also worked on an Aboriginal Reserve back home in Australia. I've worked in courtrooms and conference centres throughout Europe, as well as hundreds of law firms.
I don't just travel the world doing court reporting and captioning; I also stay closer to my adopted home here in London. I've taken down the keynote of President Bill Clinton at a dinner here in London (he wanted the transcript for himself). I've captioned the London Pride concert in Trafalgar Square, a sofa Q&A session with American record producer Nile Rogers, as well as meetings for Apple and Microsoft.
As I write this piece, I am preparing to cover U.S. depositions back in Tuscany for the next two weeks. But for me, whether it's Abu Dhabi or Arusha, Dubai or Dusseldorf, Israel or Ireland, Lithuania or Luxembourg, Paris or Prague, Venice or Vienna, I sometimes feel like I'm on one of the world's longest working holidays, with my steno machine in one hand and passport in the other, and I can't think of anything else I'd rather be doing.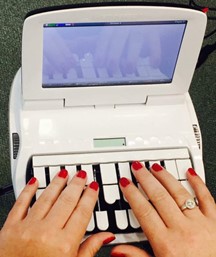 Doing what I do, you really do have the whole world in your hands. However, there is so much more to being an international stenographer than getting air miles, stamps in your passport, and hotel tier points. You need to be able to write realtime on that little machine. You need an excellent ear for the myriad of accents you will encounter (in the work I do, interpreters are rarely used). You must be able to adhere to deadlines (sometimes very short). You need to be able to troubleshoot your equipment and figure out ways around last-minute travel delays and cancellations. And so much more. But most of all, you need to get to grips with the weird-looking stenographic machine with 22 keys and nothing written on them, which is just one of the tools of our trade, along with our ears, fingers, hands, and brains.
Leah Willersdorf, RPR, CRR, is a jet-setting freelancer and captioner based in London, England. She can be reached at CourtReporterLondon@gmail.com. You can also follow her on Facebook at AAA Realtime Reporting and on Instagram at Steno_Princess.