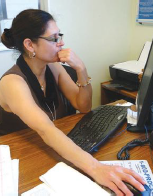 Name: Charlene Sasso, RPR
Specialty: Admissions coordinator at StenoTech Career Institute
Resides in: West Caldwell, N.J.
NCRA member since: 1978
1. Within one year's time, I passed these tests: New York Federation of Reporters, New Jersey Certified Shorthand Reporters, and the RPR. One year later I passed the Nevada Certified Shorthand Reporters exam.
2. I worked on the committee that established the Nevada Shorthand Reporters' Association. The president of the committee, a pen writer, gave me the task of setting up the first state directory.
3. In Guatemala City, I danced in the President's ballroom. This was between coups.
4. I collect rosary beads from around the world. My favorites are the ones my kids made for me in summer camp.
5. When I was 10 years old, I had a ride in a blimp. My grandmother garnered me the invitation; she owned the restaurant at the airport. I now see that airport through my office window.
6. I was a hair model for the International Beauty Show when I was in 11th grade. They didn't inform me that they were cutting a foot of my hair off!
7. I performed with my high school band on the steps of the Capitol Building in Washington, D.C. It began to pour down rain, and we ran to the bus and came home.
8. Ed Sullivan was on my plane. He petted my dog outside of JFK airport. I got him to sign his autograph on the linen napkin they used back in the day: To Tuffy, All the Best, Ed Sullivan.
9. Desi Arnaz Jr.'s parade float hit my car. The car was one month old. Ever since then, each new car gets some damage in the first month. Thanks, Desi, for the 30-year curse.
10. I stayed three weeks at a cold war army base in Czech Republic with my son when he was selected for the international hockey team camp in sixth grade. Eating Army food was difficult for us, as was getting used to the light brown tap/ shower water.
Do you want to nominate someone for the member profile series? Send your pick into the JCR's Writer/Editor, Linda Smolkin, at lsmolkin@ncra.org.