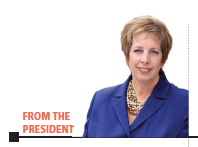 I live outside Boston, and for me and my family, terrorism struck close to home last April 15 when two bombs went off at the fin­ish line of the Boston Marathon. There were deaths and grievous injuries, and our city's easygoing self-confidence took a hit. Terror­ists had struck. Would they strike again?
On that terrible day, the Boston Red Sox were playing at Fenway Park. Diehard fans, like me, had low expectations for our Sox this season because the prior season was a disaster. The Sox had collapsed, riven by locker room tensions, ego-driven mal­contents on the field, and a manager who failed to bring the team together. The Red Sox finished dead last in 2012. Could they improve on that in 2013?
Red Sox icon David Ortiz rallied his team with defiant words, "This is our city! Stay strong!" Only days later the Red Sox played again, and 38,000 fans crowded Fen­way Park—as usual. The city of Boston was not going to be cowed by fear of terror­ism. For baseball fans out there, you know how this story played out. The new Red Sox grew long beards as a sign of team cohesion and solidarity in the face of terrorism and, most importantly, played to win. And win they did! Against all odds, they upended the experts' predictions and finished first in 2013—and then won the World Series. What a turnaround!
The 2013 Red Sox hit the jackpot for many reasons, but for those of us who watched them play the 162 games of base­ball's long season, the biggest reason was easy to see: they played to win, every day. They never gave up. They never coasted along; they always gave it their best shot.
We are court reporters, and the lessons for us are clear: be the best reporter you can be. Every day. Don't be dispirited by competition or fear of technology. Resolve to perform better today than you did yes­terday. Don't be complacent. And week by week, in the daily grind of a long year, you will succeed.
Like my city of Boston, the Red Sox adopted "Boston strong!" as their man­tra. Those two words were mowed into the centerfield grass of Fenway Park, and Boston Strong became the calling card of the revitalized Red Sox, their credentials as players: You can't beat us down! We will claw our way back and find a way to win. And they did.
We court reporters have all the tools we need to win our competitions in the mar­ketplace. Realtime services are unbeatable. Nobody except stenographic court report­ers can reliably deliver top-drawer realtime. It's our calling card, and our ticket to suc­cess. Our marketplace is impressed by good realtime; they know what an advantage it is for them; they know how to use it. It's up to us to deliver it, day in and day out.
2013 was a magical season for the Red Sox and all the fans of Red Sox Nation. My trips to Fenway Park were exciting and, yes, inspiring. My beloved Sox were showing us how it's done, one game at a time. And the ultimate prize was theirs: the World Series.
What's your World Series? Where do you want to be professionally this year? What goal of yours is out there, waiting for you to make it a reality? Credentials matter. Do you have your RPR? RMR? CRR? Now's the time to go after them.
The World Champion Red Sox had an exuberant victory parade through down­town Boston, where the city came out by the thousands to cheer their baseball he­roes. I can't promise you a ticker tape pa­rade through town, but when you achieve your goals, you will be amply rewarded. Set a goal, work hard, reach your goal. How sat­isfying! How rejuvenating to your self-con­fidence! Be Court Reporter Strong this year, and experience a renewed sense of pride in yourself as a topnotch professional.
Nancy C. Varallo, RDR, CRR, is NCRA's current president. She can be reached at president@ncra.org.