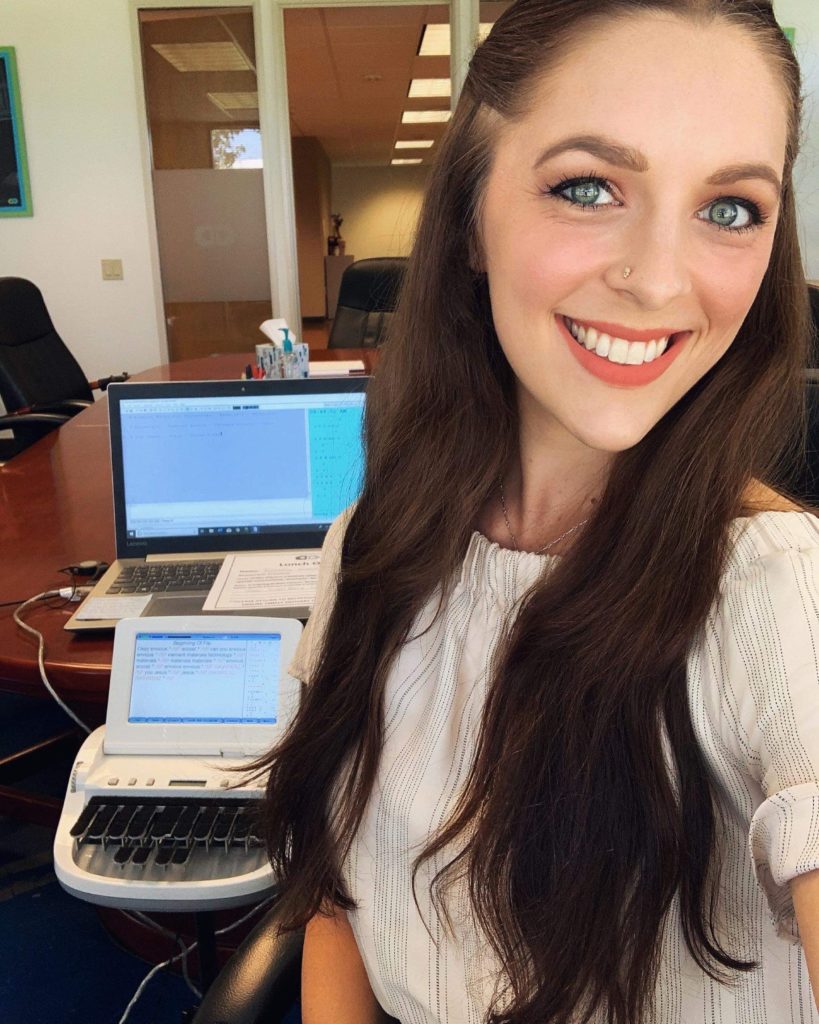 By Mike Hensley
Bethany Glover, RPR, is a new professional residing in Long Beach, Calif. Not only is she new — within her first year of work as a freelance deposition reporter — she finished school in a blazing 16 months. She is excellently poised to take the world by storm, and she has graciously shared insights with us as a newly licensed court reporter.
JCR | Why did you choose to become a court reporter?

BG | I grew up dancing, moved to New York City to earn my bachelor's in dance at a prestigious school, traveled the world performing as a professional dancer, and had to cut short my dancing career early due to a back injury. I wanted a career that would still give me the freedom to travel while also earning a good living. I also loved how crucial court reporting is for getting a record of people's experiences and for the judicial system as a whole.

JCR | What's your "can't live without" item in your steno bag?

BG | Definitely back-up USB flash drives. I always, always back everything up, because you just never know when technology is going to be cranky.

JCR | What is your biggest challenge as a new reporter?

BG | My biggest challenge as a new reporter is learning how to have a good work/life balance. I really love what I do, so I tend to get lost in my work. I'm trying to learn to step back and take time to do things for myself outside of work too. Self-care is crucial!

JCR | What is your next goal? What is a long-term goal?

BG | My next goal is working on realtime. I'm learning that the cleaner that I write while on the job, the less work I have to do editing. I want to be writing realtime as soon as I can.
A long-term goal of mine is to be able to take depositions internationally. I would love to travel for work. That's the dream.

JCR | What do you like to do when you're not reporting?

BG | When I'm not reporting, I love to take yoga classes and explore new neighborhoods. I really enjoy being outside and walking. I also want to get into doing volunteer work with animals.

JCR | What do you love about your career?

BG | I absolutely love meeting new people and going to new offices every day. It's always something different, and there are no two days the same.

JCR | How has involvement with state and national associations benefited your career thus far?

BG | Being involved with associations has been so important for me on my journey to becoming a court reporter. I have met wonderful reporters through the associations who have supported me, cheered me on, and have been there for me for every question that I have. The court reporting community is like no other, and the reporters I have met through associations inspire me every day.

JCR | What was the best piece of advice that you received from another court reporter that helped you?

BG | The best piece of advice I ever received from another court reporter is to be confident in my skills and to not be afraid of taking charge. Being a new reporter can be a little intimidating sometimes, but you just need to walk in with a smile on your face and your head held high.
Mike Hensley, RDR, is a freelancer from Dublin, Calif. He can be reached at stenomph@gmail.com.