In less than two weeks, 2014 National Court Reporting & Captioning Week will kick off, with court reporters, captioners, firms, state associations, and court reporting schools hosting an array of activities to showcase the profession and to raise public awareness of the growing number of career opportunities the field has to offer.
Among them is Anoka Technical College in Anoka, Minn., where the court reporting school will host an on-campus "Court Reporting & Captioning Spring Fling," on Feb. 19. The school is inviting students, reporters, judges, legislators, representatives from the Deaf and hard-of-hearing communities, and members of the general public to attend the event which will feature realtime and captioning demonstrations, opportunities for students to mingle with working reporters, and food and drinks.  Contact Jennifer Sati at JSati@atech.edu.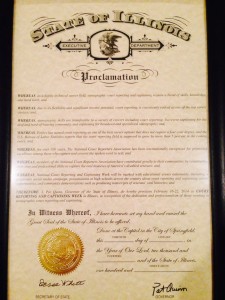 Stenograph, based in Elmhurst, Ill., and a major product and service provider to the court reporting and caption profession, has received an official proclamation from Illinois Governor Pat Quinn, recognizing Feb. 16 – 22 as the official 2014 National Court Reporting & Captioning Week. Contact Dan Peterson, Director of Marketing and Inside Sales for Stenograph at DPetersen@stenograph.com.
The Oregon Court Reporters Association is urging its members to spread the word to clients, friends, and associates about 2014 Court Reporting & Captioning Week, as well as working on partnering with the Oregon State Bar to host a Veterans History Project to market the event. The State Bar will also run an ad in the February edition of their magazine using NCRA's promotional logo to recognize the week. In addition, Carol Studemund, chair of OCRA's Legislative Committee, has arranged for NCRA's proclamation about Court Reporting & Captioning Week to be read at the Oregon Legislature and at the city councils of Portland, Eugene, and Beaverton. Contact Robin Nodland at rnodland@LNScourtreporting.com.
The Pennsylvania Court Reporters Association is planning to encourage its extensive member base to get involved with National Court Reporting & Captioning Week by engaging in a grassroots effort to promote the profession and educate local communities about the value stenographic skills bring to today's marketplace.  PCRA is working very closely with the three nationally-accredited court reporting programs that are located in Pennsylvania to recruit and retain students and bring awareness of the profession to the public. Contact Donna Betza, PCRA President dbetza@betzaandassociates.com.
To find out how you can celebrate 2014 National Court Reporting & Captioning Week or to find the latest in resources including press release templates, media pitches, power points, and more, please visit NCRA's Court Reporting & Captioning Week resources page or contact the NCRA communications team at PR@ncra.org.