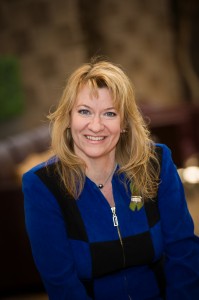 Freelance judicial reporter/CART provider/captioner
Currently resides in Dayton, Minn.
MEMBER SINCE: 1989
GRADUATED FROM: Intermountain College of Court Reporting
THEORY: Who can remember back that far?  It was back in the dark ages when conflicts weren't a problem.  It was a lot faster to get through theory when you could write everything the same way.
Let's call it "Strokers R Us!"
WHY DID YOU DECIDE TO ENTER THE COURT REPORTING PROFESSION?
Court reporting found me. I worked for the police department in high school. One day the chief of police asked me what I wanted to be, and I said a court reporter. I honestly have no recollection of ever being exposed to court reporting; I've just wanted to be one as long as I can remember. No idea how I knew of the profession or where the thought came from and, after graduation, did nothing to prepare in that direction. After high school graduation, I left for college, majoring in business administration. A year of Humanities and Economics 101 later, while I was home visiting the family, my mother said, "Did you know there is a court reporting school literally two blocks from our house?" I enrolled the next semester and destiny ensued.
WHAT HAS BEEN YOUR BEST WORK EXPERIENCE SO FAR IN YOUR CAREER?
I got to do a 45-minute depo in Grand Cayman.  We had to be there for five days to obtain clearance from Scotland Yard – terrible hardship, I know! It was my 10th wedding anniversary, and my husband was the videographer. Does it get any better than that?
WHAT IS YOUR FAVORITE BOOK OR MOVIE?
I love to watch movies and I love to read, but I can only rationalize watching movies if I'm on the treadmill (so you know how often that happens) and reading has become a reward-only proposition. I collect all the books I'm going to read–when my transcripts are caught up, when the bathrooms are clean, when the barn is organized.  This obviously never happens, so the stack of books grows!
I did, however, request an e-reader for Mother's Day. After adamantly refusing to give up the pleasure of turning the physical page–of those books I never read–I have come to appreciate the possibilities of reading in the car on road trips (the only time I can reward myself when the work isn't done) without a flashlight duct taped to my forehead or using rubber bands or alligator clips to keep the book open, and I can still read in full sunlight when I'm by the pool sipping on … can you say, "Dream on"?
WHAT ARE YOU MOST PROUD OF IN YOUR CAREER? 
Without a doubt, qualifying on the National Speed Competition, first attempt. I got a wee bit emotional. How embarrassing!
Also, I did a month-long daily copy, medical malpractice trial. We finished each day around 5 p.m., an hour drive home, rough to them by 9 p.m., final to them between 1-4 a.m. (depending on how hideous the experts were that day!) in bed, up at 6 a.m., hour drive back, on the record at 8:30 a.m. Doctors were deposed on Saturdays. The defense counsel sent me a huge bouquet of flowers with a card saying the transcript made the difference in their case.
Another highlight case: A two-week 507 Daubert challenge (nothing but experts), almost 300 pages a day. Had to print and bind final copies with my little 10-page spiral binder in my roach-infested motel room and have on counsel table the next morning.
The secret to my survival? Mountain Dew and clean writing!
WHAT ADVICE OR TIPS WOULD YOU OFFER TO NEW REPORTERS?
"And this too shall end." Hold on, they'll have to breathe eventually, or they will pass out!
HAVE YOU ACCOMPLISHED SOMETHING NOT RELATED TO YOUR CAREER THAT YOU WOULD LIKE TO TELL US ABOUT?   
My spare time is spent on family, church, Cub Scouts, and anything else that sounds like fun. I spend Sundays playing the piano, the organ, directing the choir, teaching children ages 3-11 songs, and making flower arrangements. I spend my summers planning girls' camps and our community day camp for the 100+ Cub Scouts from ages 8-11.
My husband is in "executive protection"; i.e., a bodyguard.  Through his career he has provided security for many personalities such as Mrs. Fields, Martina McBride, and Garth Brooks. When I married him, I had to go to the Fields' house to see him because he worked 24/7.
My daughter, Makayla, is presently attending Mark Kislingbury's Academy of Court Reporting in Houston, Texas.  She's dying to teach me how to brief the years! (Ain't gonna happen.)
My twins, Austin and Dallas, are 17 – guess where daddy is from? They're high school seniors involved in varsity football, wrestling, and are Eagle Scouts.
Wyatt, who just turned 11, has the rare distinction of being one of few people alive who have held their heart and lived to tell the tale.  He plans to be a pediatric cardiologist when he grows up.
Favorite briefs (or a tip) 
Brief? What's a brief? I understand I'm the brunt of many a joke in Mark Kislingbury's theory class because I'm the worst "stroker" in the history of the profession.
Periodically is a six-stroke word. Seriously. And I would shorten it, but it has such a rhythm to it I love writing it. I can hear the "briefers" laughing in my head.
I do brief preponderance (P-P). After I've told astonished admirers, "It's magic" when they ask, "How do you do that?", I use preponderance of the evidence to demonstrate that I can write it faster than they can speak it.