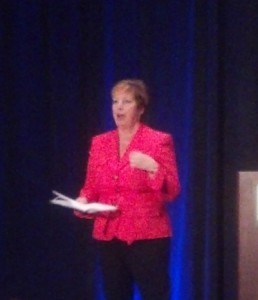 In welcoming remarks to attendees at NCRA's TechCon 2014 taking place in Atlanta, April 11-13, President Nancy Varallo called the conference "the must-attend event" for those who are interested in cutting-edge technology and the specialized programs the association offers—programs like the Realtime Systems Administrator workshop and the Certified Legal Videography Specialist program.
She urged attendees to take advantage of TechCon's diverse audience, which includes court reporters, legal videographers who support stenographic court reporters, and legal professions who are attending to broaden their technological horizons.
"There's always change afoot in our marketplace and we need to keep pace, and how better to stay abreast of market trends than mingling with the technological leaders in our profession," she said.
Read Nancy Varallo's welcoming remarks here.