NCRA members can invest in the future of the court reporting profession by making a small donation to help a student attend the 2014 Convention & Expo July 31-Aug. 3 at the Hilton San Francisco Union Square hotel.
NCRA pools together donations that can range from $25, $50, $100, or an entire student registration of $130 and divides the total among all student registrants to help offset their costs. Students receive a refund after convention.  Donations can be made at the time of convention registration, on-site at the NCRA registration desk, or directly to NCRA's education department.
"I'm sure we all remember what it was like to be in court reporting school and have guest reporters come in and speak. It was always awesome, and I know I hung on every word," said Doreen Sutton, RPR, who serves on NCRA's Board of Directors and its Education and Schools Committee.
"By sponsoring a student at convention, we are able to be a big part of creating a long-lasting memory for them. I've had the privilege of sponsoring a student to attend NCRA's national convention, and I mean it when I say it was a privilege. I know these students are always so grateful to be able to attend," Sutton added.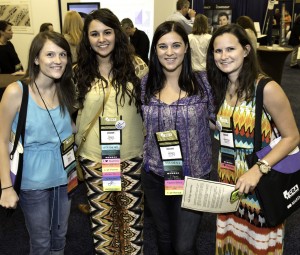 This year's Student Seminar Program at NCRA's 2014 Convention & Expo includes an array of educational and networking opportunities designed to help boost the careers of student attendees. The activities include a welcome and orientation session to provide tips on how students can get the most out of their convention experience, as well as a special Student Scavenger Hunt.
Students will also attend the Premier Session and hear keynote presenter Tommy Spaulding, a world-renowned speaker on leadership and author of It's Not Just Who You Know: Transform Your Life (and Your Organization) by Turning Colleagues and Contacts into Lasting, Genuine Relationships, and watch as NCRA's 2014-2015 officers and Board of Directors are installed.
Educational sessions will cover tips and tricks from working court reporters on staying the course from student to professional, a panel discussion that will provide a glimpse into the day in the life of a captioner, how to make the move from book-smart student to confident new reporter, and a panel/town hall question and answer session that will offer insight into the various work areas available after graduation, including freelancer, official, CART provider, and captioner.
Networking opportunities include a town hall meeting where students will meet NCRA's Board of Directors and the annual NCRA Awards Luncheon.
Students will also have time to visit Expo 2014, NCRA's state-of-the-art equipment exposition where they can visit with vendors for one-on-one training, get answers to their questions, and learn about the latest in court reporting technology.
"Attending a convention would be such a great experience for any college student, but especially today's court reporting student," said Eileen Beltz, CRI, CPE, an online instructor for the College of Court Reporting, Hobart, Ind.
"With the advent of online learning and the increased stress of passing tests, students need the opportunity to network and sometimes commiserate with their peers who understand their struggles like nobody else can. This is not always feasible for many students if it were not for our professionals who continue to show support for our future and generously donate to keep the costs to attend an NCRA convention as low as possible for our students," Beltz added.
For more information or to register.