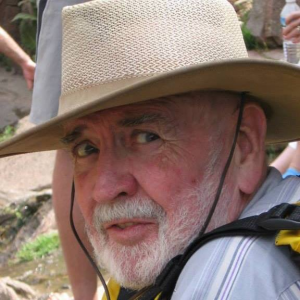 The court reporting world lost an icon on Nov. 13, 2014, when Jim Bouley passed away at the age of 80. Thousands of us cut our teeth on his hours of dictation, many of us enjoyed his war stories over the years, and a few of us knew him best as the most welcoming Speed Contestant ever. He entered his first NCRA Speed Contest in 1972 and his last in 2010 because "I think it's important to know that I'm not slipping."
He had spoken of the contest for many years, and each time his wife would say, "Either do it or quit talking about it." Finally he entered, qualifying in that and many following, often in the top 10, with fourth overall as his personal best. Ellie Bouley was truly the woman behind the man, usually in the back of the dictation room, encouraging his career over their 60 years of marriage.
They also did their best to repopulate our reporting ranks: Five of their eight children are professional reporters today. Michael joined his dad at the contest in 2008, becoming one of the few intergenerational sets of Speed Contest competitors.
Jim was born in Dayton, Minn., in 1934 and finished reporting school at the Minnesota School of Business in 1955. He relocated to Tucson in 1959 with the firm that would become Bouley, Schlesinger, DiCurti & Schippers until his retirement in 2010, cultivating his persona of "The Fastest Fingers in the West," with his penchant for bolo ties fitting in perfectly. He was a multistate CSR and earned his RPR in 1960, Certificate of Merit in 1961, RDR in 1999, and was a proud member of NCRA since 1956.
The self-professed follower served on committees and in various offices of the Arizona Court Reporters Association, including president in 1967, and received their Distinguished Service Award in 1991. He became a Fellow of NCRA's Academy of Professional Reporters in 2002 and was awarded the Foundation's Aurelio Award for Altruism in 2009 — to both his surprise and Ellie's, although several "Boulettes" were in attendance and in on the surprise.
Jim served on NCRA's dictation creation committees for nearly two decades, his steady, clear voice enunciating and encouraging students and working reporters alike: "This is Jim Bouley, and this is 180 Literary. Ready? Begin." Speed Contest novices would be surprised as Jim finished practice dictation at the front of the room and then sat down at his machine and wrote like the wind. My seat of choice was always behind him, hoping to draft off his greatness.
Jim mentored countless young reporters and never hesitated to encourage or assist everyone else. After a particularly difficult take one year, he asked calmly, "Doesn't everybody write 'entrepreneur' in one stroke?" [PRAOUR] We certainly did after that! Only years later did we learn that he'd just finished a grueling series of deps and had made it up for self-preservation. I can picture his "I got 'em!" feeling as it rolled out in dictation. In later years he shared his "Bust Your Ass Lit" and "Pretty Damn Fast Opinion" home recordings as his "Welcome to the Contest" gifts.
Jim loved competing and was always there "to keep 'em honest." He was a regular on the international stage through Intersteno, too, achieving third in that worldwide competition in 2003. As he said, "With all the practicing I do, I may not be the best, but I'm the best that I can be," which says a lot. We could always count on his "It feels so good when it stops!" at the end of dictation and "That's what they would have said if they were telling the truth!" as he turned in his transcripts. If one person could make a difference, could make it more fun, could make it even more worthwhile, it was Jim.
Although he claimed not to be a leader, it is said, "If your actions create a legacy that inspires others to dream more, learn more, do more, and become more, then you are an excellent leader." Jim was an excellent leader. His wit and wisdom will be sorely missed, but his zest for life, welcoming smile, and twinkling eyes will be with us always.
Melanie L. Humphrey-Sonntag, RDR, CRR, CCP St. Charles, Ill.