NCRA members Robin Nodland, RDR, CRR, a court reporter from Portland, Ore., and Rene L. Twedt, RDR, CRR, an official court reporter from Detroit, Mich., celebrated National Law Day by participating in separate events that sparked the interest of students and legal professionals during presentations about the profession.
Participating for the first time in a Law Day workshop hosted by the Oregon Classroom Law Project, Nodland had the opportunity to demonstrate what court reporters do in two sessions labeled Careers in the Law. High school students were invited to rotate among Nodland, a civil litigator, a paralegal, and a court-certified American Sign Language interpreter in 15-minute increments. The workshop was designed to allow students to explore various law-related career paths.
"I participated on behalf of the Oregon Court Reporters Association in place of representatives from another firm who usually attend. I did not know what to expect. In one other presentation to high school students, I found that their attention was lacking," Nodland said.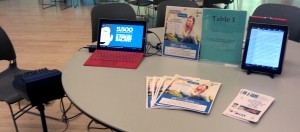 She estimated that she interacted with about 80 students during the event and commented that the small-group format combined with having NCRA's TakeNote campaign resources available were key in catching their interest. At her booth were customized TakeNote fliers, the campaign's PowerPoint presentation, and the TakeNote 30-second video.
"I started to use the PowerPoint but got interrupted with questions, including how my steno machine worked, why there are mistakes in realtime, and how much court reporters earn. This was the perfect venue for recruiting for our industry. I stressed to the students that this is a career not only in the legal field but in technology as well," said Nodland.
Nodland said she provided realtime coverage of the workshop kick-off by the facilitator and then showed the 30-second video, asked who knew what a court reporter was, explained how she was able to stream realtime, and emphasized how important court reports are to the legal system.  She said she also talked about CART and captioning and shared a video of University of Wisconsin basketball player Nigel Hayes interacting with the stenographer during the NCAA March Madness press conferences.
Over in Detroit, Twedt also participated in her first Law Day event held at her courthouse. She said the court reporters who participated were gratified by the interest that event attendees expressed in the profession, commenting that the live realtime demonstration was second in draw only to the U.S. Drug Enforcement Agency's drug canine.
"I believe we interacted with approximately 50 people including lawyers, high school students, and participants from other law enforcement agencies who were also presenting," Twedt said.
In addition to realtime demonstrations, Twedt said the booth was created using a variety of resources from NCRA including from the TakeNote campaign. She said that many of the visitors to the booth were amazed by the technology used to create realtime.
"People still believe court reporting is old-fashioned, so it was wonderful to show off the realtime technology," said Twedt.
Both Nodland and Twedt said that participating in their respective events resulted in follow-ups by attendees interested in learning more about the court reporting profession. Nodland said she and other representatives from the OCRA were asked to present to an entire class of high school students about the profession. Meanwhile, Twedt reported that she received a call from the director of one of the only remaining court reporting programs in the state of Michigan, thanking her for participating in the Law Day event and letting her know that one of the students who had attended called the school and plans to begin classes when the next session begins.
NCRA's Take Note campaign showcases several key career characteristics: job security, earning potential, flexibility of schedule, and the ability to help others. This broad effort includes a combination of public relations outreach, paid media advertising, guerrilla marketing events, and a custom website (crTakeNote.com). Each laser-focused element will encourage potential students and influencers such as parents and school counselors to connect directly with NCRA's certified and participating court reporting schools and programs. NCRA members are encouraged to visit the Take Note site and download  the materials for promoting the profession.