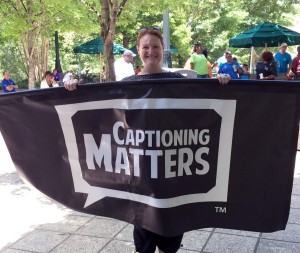 On June 13, NCRA members Jana B. Colter, RMR, CRR, CBC, CCP, Louisville, Ky., and Kerry Anderson, RPR, Atlanta, Ga., participated in the ADA25 Georgia Legacy Parade celebrating the 25th anniversary of the Americans with Disabilities Act.
Colter, a captioner who also serves as co-chair of NCRA's Broadcast and CART Captioning Committee, and Anderson, a CART provider and captioner who also serves as an NCRA Director, marched in the parade and carried a banner that read "Captioning Matters." Both say that participating in the event not only celebrated 25 years of the ADA but also placed a greater awareness on the achievements the Act has provided for those living with disabilities.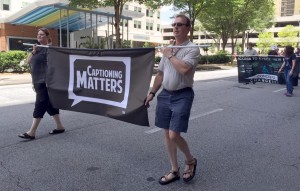 The march ended with a celebratory presentation in a nearby park.
Colter said she became involved in the event as a result of her captioning for Brenda Brueggemann, a faculty member at the University of Louisville. Brueggemann currently serves as program chair for the 2015 Society for Disability Studies annual conference and is the group's incoming president. She is also scheduled to lead the session, Composing Sound—A Workshop on Creative and Critical Thinking, during the 2015 NCRA Convention & Expo being held in New York City, July 31-Aug. 2.