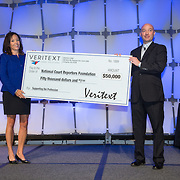 The National Court Reporters Foundation, the charitable arm of the National Court Reporters Association, announced that Veritext, a leader in deposition and litigation support solutions, became the founding donor of its newly launched Major Gifts program.
Veritext, based in Livingston, N.J., presented the NCRF with a $50,000 gift during a special awards luncheon held at the 2015 NCRA Convention & Expo being held in New York City from July 30 – Aug. 2.
NCRF's Major Gifts Program allows donors to make a tax-exempt contribution of $5,000 or more in one calendar year. The program was developed as a way to provide additional avenues for larger donations to be made to help further support NCRF's mission and programs.