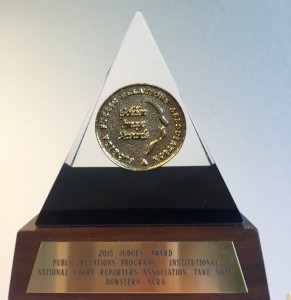 NCRA's Take Note campaign has been presented the Award of Distinction and the Judge's Award by the Florida Public Relations Association in recognition of its raising the public's awareness of the court reporting profession on a national level.
FPRA's Award of Distinction recognizes any public relations program by an institution that creates a public image for the organization. Programs recognized in the category typically are designed to generate support for and awareness of the organization's mission, values, programs, plans, or activities. The Judge's Award is presented to any entry that demonstrates significant impact with minimal budget and recognizes that the program had had a national impact.
In April, the Capital Chapter of the FPRA awarded NCRA's Take Note campaign first in the public relations division of its annual Image Awards. The public relations award considers how a program has improved an organization's image in the community, informed and educated the public about an issue, created a public image for an organization, and successfully worked to inform or influence target markets audiences through the use of the news.
The Take Note campaign placed first in all four areas of the division, also being recognized for helping to ensure that future court proceedings have the most accurate transcripts available, and for improving individual lives by reducing the amount of personal student debt, and national debt, by offering affordable education opportunities.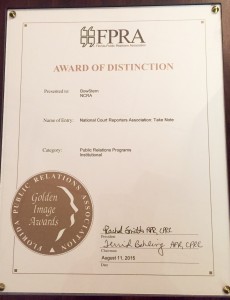 The latest FPRA awards were based on entries representing programs from across the state.
"Essentially it is a two-step process," said Kelly Robinson, president of BowStern, the Florida-based public relations firm handling the Take Note campaign. "The Image Awards are held locally each spring and the statewide Golden Image Awards are held during FPRA's annual convention. These awards are highly competitive since the entries are up against the best work in the state. It is an honor to walk away with two."
The Take Note campaign was launched August 2014 by NCRA to help increase the public's awareness of the court reporting and captioning professions and to spotlight the fact that there is ample opportunity in the court reporting profession in the coming years.
In June, the campaign was awarded a 2015 Power of A Silver Award by the American Society of Association Executives. The Take Note effort was recognized for providing high school students and their parents and guidance counselors with education about the role of court reporters, as well as career benefits.
More information about the campaign can be found at crTakeNote.com.