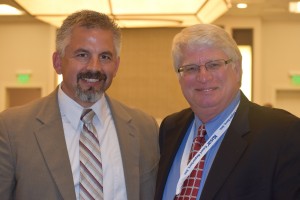 NCRA participated at the California Court Reporters Association's annual convention held Oct. 9-12 in Newport Beach, Calif., as an exhibitor, providing court reporting and captioning professionals on the west coast with the opportunity to meet staff and learn more about the importance of membership in the national association.
Attending the event was NCRA CEO and Executive Director Mike Nelson, CAE, who addressed members during a general board meeting and installation of officers' luncheon. Nelson urged CCRA members to work together with NCRA to move the profession into the future by reaching out to potential new students, mentoring current students, and supporting court reporting schools in their efforts to produce the best and the brightest professionals.
"As we look to the future, each of us needs to embrace the notion that to remain a viable and healthy profession, we need to remain nimble, embrace change, and garner creativity because the only constant in today's world is change. This is true of no matter what segment of the profession we are serving," Nelson said.
He cited a number of priorities that need to be addressed by NCRA and state associations together, including how to identify the right students for court reporting schools, how to retain them, and how to strengthen the programs of court reporting schools throughout the nation.
"To remain nimble in this world of constant change, collaboration among our states and NCRA must be a priority. We need to be stronger in our collaboration to tackle these challenges rather than spend time doubling our efforts," Nelson noted.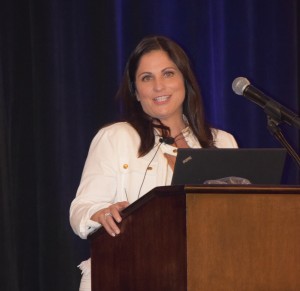 According to Carlos Martinez, RPR, CMRS, an official court reporter from Santa Ana, Calif., and CCRA's immediate past president, this year's event attracted one of the highest number of attendees in the past several years. More than 380 professionals were on site including a large contingency of students.
Sessions at the event covered an array of topics, including realtime, captioning, CART, ergonomics for the working reporter, the Veterans History Project, negotiating payments, better business practices, injury prevention, and covering capital cases. A number of vendor sessions were also offered that focused on a variety of software available in the marketplace.
A highlight of the event was a presentation by the National Search Dog Foundation's Julie Brandau Community Service Memorial, which works to rescue high-energy dogs from shelters and breed rescues and train them in live-find search.
NCRA member and sports broadcast captioner Debra Bollman, RMR, CRR, CBC, from Riverside, Calif., served as keynote speaker and shared her story of how she went from a court reporter to a sports broadcast captioner. Bollman, who was thrust into the media spotlight last spring after piquing the curiosity of several members of the Wisconsin Badgers basketball team about her captioning of their press conferences, was especially called out by player Nigel Hayes who, with good humor, tossed out a number of off-the-cuff words such as cattywampus to test her skills.