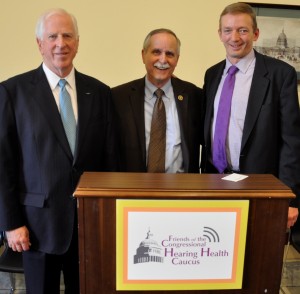 On Oct. 21, NCRA joined more than 150 Congressional staffers, hearing advocates, and guests at a screening reception hosted by the Friends of the Congressional Hearing Health Caucus. The event, which was held at the Rayburn House Office Building in Washington, D.C., included hearing screenings by hearing health professionals and earbud-noise testing sponsored by the National Institutes of Health.
About 50 attendees had their hearing screened and ears checked by volunteer audiologists, hearing-aid dispensers, and otolaryngologists. Professionals were also on hand to provide advice about preventing hearing loss and options available to those who have experienced hearing loss.
"NCRA is privileged to be a part of events such as this forum sponsored by the FCHHC. Raising awareness of how consumers can protect their hearing through screenings and understand that there are options available to assist them in improving their quality of life with hearing loss is a vital service this Congressional Hearing Health Caucus provides," said NCRA's Director of Government Relations Adam Finkel.
The Congressional caucus aims to broaden support and knowledge of hearing health-care issues within Congress and provide an educational setting for discussion of issues related to hearing health. Honorary co-hosts of the event were Reps. David McKinley (W.Va.) and Mike Thompson (Calif.).
In remarks to attendees, Rep. Thompson noted that hearing health is an important element of overall health care and that it is critical to address hearing loss early to avoid negative impacts on a person's learning and earning potential.
In addition, Rep. McKinley noted the importance of following up on passage of HR1344, the Early Hearing Detection and Intervention bill, which was passed by the House in September and is now being considered by the Senate.
In addition to NCRA, other Friends of the Congressional Hearing Health Caucus include: A.G. Bell Association for the Deaf and Hard of Hearing; Academy of Doctors of Audiology; American Academy of Audiology; American Academy of Otolaryngology – Head and Neck Surgery; American Cochlear Implant Alliance; American Speech-Language Hearing Association; Hearing Network Alliance; International Hearing Society; National Association of the Deaf; Registry of Interpreters for the Deaf; and Telecommunications for the Deaf and Hard of Hearing.
To learn more about the Friends of the Congressional Hearing Caucus, contact Adam Finkel at afinkel@ncra.org.