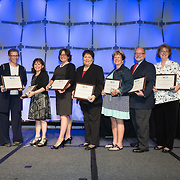 Induction into the Fellows of the Academy of Professional Reporters represents the pinnacle of excellence among NCRA members who are inducted. Nominations for members for the class of 2016 close Nov. 30.
"Members of the Academy of Professional Reporters are individuals who are a credit to the reporting and captioning professions and embody the highest level of professional ethics," said NCRA Executive Director and CEO Mike Nelson, CAE. "Their support of the profession can be seen in their activity in professional associations at the state or national level or through a number of other venues."
To become a Fellow of the Academy of Professional Reporters, candidates must have actively practiced reporting for at least 10 years and have attained distinction as measured by performance. For more information about membership requirements and to download a nomination form, visit NCRA.org/fellows.
"I was in shock when I found out I had been nominated and selected to be a Fellow," said Linda S. Hershey, RDR, CRR, CBC, CCP, a CART and broadcast captioner from Chattanooga, Tenn. Hershey was inducted into the 2015 class of Fellows. "It is a humbling experience when you find your career has been affirmed by your peers," said the 40-year veteran.
Sue A. Terry, RPR, CRR, a freelance reporter from Springfield, Ohio, and a member of NCRA's Board of Directors, said being inducted into the 2013 Fellows class will always be one of her fondest memories of her professional career.
"I have been in awe my entire career of the dedication and knowledge that every Fellow I've met exemplifies. If you know someone who deserves this honor, please don't assume that someone else will do the job of nominating them," said Terry.
She said she encourages others to be part of bestowing on other members one of the greatest professional honors they will receive, by nominating a fellow reporter they feel deserves such admiration.
"Receiving a Fellowship is something I will cherish for many years to come, and it is a great professional distinction. Be part of giving someone else that opportunity," she said.
Inductees to the 2016 class of Fellows of the Academy of Professional Reporters will be recognized during the Awards Luncheon at 2016 NCRA Convention & Expo being held Aug. 4-8 in Chicago, Ill.