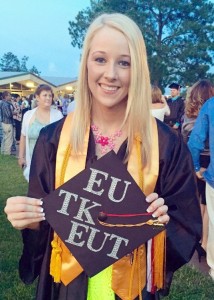 By Michael McMorran
It took Kara a year and seven months to go from starting theory to becoming a CSR in the state of Texas and only one year and three months to go from theory to passing her last 225 exam. Kara attended Alvin Community College and has been reporting for almost a year now. She currently works in court and has worked on family, juvenile, criminal (both misdemeanor and felony) and civil cases in her short time as a CSR. She has even realtimed on a few occasions for her judge. Kara's future ambition includes taking and passing the RPR and NCRA's realtime certifications.
Q: What did you find to be the most difficult thing about transitioning from being a court reporting student to being a brand-new reporter?
A: I'm not a particularly organized person; so, creating a workspace that worked best for me and staying organized was undoubtedly a challenge. Organization is key in this profession, and I knew I would get there in time. After trial and error, I eventually found the perfect system for me. It was smooth-sailing after that.
Q: How did you feel both going into your first assignment as a reporter and coming out of it?
A: I will never forget my very first day as a court reporter. I was extremely nervous going into my first assignment because I didn't do much interning in court. It was my first time to be in juvenile court and that afternoon happened to be pretty busy, but I held on. We finished the afternoon with 16 cases on the record. I was a little overwhelmed, but also relieved. I had survived my first day.
Driving back home in my car, I just couldn't help but feel incredibly blessed and thankful to finally be a part of this wonderful field. It also felt pretty amazing once it hit me that I was getting paid to do what I love.
Q: How would you describe your first year of reporting in a nutshell?
A: My first year of reporting has been productive and exciting. I am constantly learning new tidbits about this profession every day, and I love being a part of making history. I have definitely grown from my first day as a court reporter.
Q: Your journey through court reporting school is pretty remarkable in that you were able to finish the program from beginning to end in about 15 months. What's one piece of advice that you would give to all of the court reporting students out there?
A: Never give up and never doubt yourself. I know it sounds cliché, but it's true. Court reporting school was definitely one of the hardest endeavors I have ever embarked on, but it was so worth it and rewarding in the end.
I know firsthand how frustrating it is to fail almost every day, but you just have to get back up and try harder again the next day. It's all about having a positive attitude. There really is light at the end of the tunnel, I promise.
Q: What did you find to be your biggest challenge as a new reporter?
A: I would have to say putting the transcript together. Scoping wasn't too difficult, but many times I had questions about my professional software and making sure I was following the correct procedure, for example, indexing, include files, creating a PDF, merging files into a PDF, turning in appeals via online portals, etc.
Q: What are some of your long-term court reporting career goals?
A: I aspire to get as many certifications as I can. I really hope to be realtime certified within the next three years. I also want to be a mentor once I have enough experience under my belt to help new reporters and students in my area. One of my biggest goals and dreams, though, is to become an official court reporter.
Q: How did you get into court reporting?
A: When I first learned about court reporting, I was attending school to become a middle school teacher. I wasn't sure if I would be able to find a job once I received my teaching degree; so, I just jumped right in and decided to take on a new career path to becoming a court reporter.
My sister-in-law was also enrolled in court reporting school at the time. We had talked about it a few times, and she seemed to really enjoy it. My mom also encouraged me to give court reporting a try. She was a paralegal for many, many years. I knew I wanted to work in the legal field because it always intrigued me.
Q: You mentioned in your Texas Court Reporters Association testimonial that you were sponsored to attend a court reporting convention as a student in addition to being paired with a mentor through TCRA. What kind of impact did that have on you as a student, and has it carried over into your reporting career?
A: Being sponsored to attend my state's convention was such a blessing. It was my first convention to attend, and I'm grateful I didn't have to miss out on going due to financial circumstances I'm sure all court reporting students can relate to. Because of my sponsor, I was able to network with fellow students and reporters and sit in on several seminars where I learned so many invaluable lessons. Attending TCRA's annual convention had a monumental impact on me as a student. After the convention, I was extremely motivated to finish school as fast as I could.
I'm thankful that I met my mentor at the convention. She has kept in contact with me ever since that day. I did some interning with her in court, and she actually booked me for a few days to sub for her before I had even taken and passed my CSR. Having a mentor who believed in me as much as she did made a huge difference in my life. She was always there to encourage me and lift me up. Now, as a working reporter, she's always there to answer my questions and help me grow into a better reporter each day.
Michael McMorran is a freelance reporter in San Diego, Calif. and a member of the NCRA New Professionals Committee.