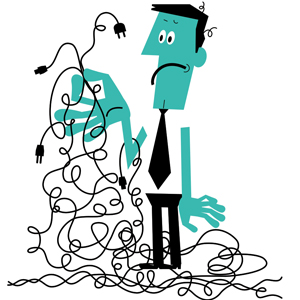 The Realtime Systems Administrator Workshop and Exam are being offered during the 2016 NCRA Convention & Expo, Aug. 4-7 in Chicago, Ill. This workshop provides firm owners, IT support staff, freelance reporters, and official reporters with the boost they need to improve their professional marketability and technical proficiency. Registration information for the workshop and the Convention & Expo, as well as a schedule at a glance, can be found at NCRA.org/Convention.
The day-and-a-half workshop focuses on all aspects of realtime hookups and litigation support that rely on realtime connections, including cutting-edge wireless realtime. Attendees will learn how to quickly troubleshoot realtime issues, based on real-world scenarios, as well as explore all aspects of connectivity from serial communication to more advanced networking concepts, including wireless connectivity. Workshop attendees who pass the Exam will earn the Realtime Systems Administrator certificate.
"I thought I knew everything I needed to know about realtime since I do it all the time and have for many years. But that's not true," says Lori Byrd, RPR, CRR, an official court reporter from Winfield, Kan.
"One of the biggest reasons I keep seeking some kind of upgraded certification is because of something a court reporting friend once told me: a 30-year-old certificate doesn't mean as much as a fresh one. A reporter who continually seeks to better himself or herself is more the type of reporter I would want to hire if I were looking for one. I want to do top-of-the-line work, so I feel strongly I need to be a top-of-the-line reporter," Byrd adds.
NCRA's Realtime Systems Administrator Program and Exam were developed and are implemented by the absolute experts within the field of producing realtime writing. The curriculum includes a two-step process: A lecture-based workshop is followed by a practical exam of a candidate's ability to perform the duties of a realtime systems expert in real-world situations. Key components of the program and the text include: computer basics, connectivity basics, serial products, streaming products, and troubleshooting scenarios.
"I have been providing realtime hookups since 1989, and I felt it would be beneficial to have this certification so that attorneys coming into my service area will have a greater comfort zone about the quality of the realtime they will receive," said Ginger H. Brooks, RPR, CRR, a freelance reporter from Jackson, Miss.
While there are no prerequisites for NCRA's Realtime Systems Administrator Workshop, candidates should have a basic knowledge of realtime and a strong knowledge of their hardware, software, and equipment. Each workshop participant receives a copy of NCRA's Realtime Systems Administrator Guide, which mirrors the program's curriculum and provides in-depth information on a range of related topics.
"It was a great opportunity to have a refresher course," says Brooks. "It has given me an opportunity to discuss with prospective clients our state organization, NCRA, and the benefits of hiring a qualified realtime reporter for depositions. You may feel that you do not need this certificate, but there is always something new to be learned."
For more information and to register for the Realtime Systems Administrator Workshop and the 2016 NCRA Convention & Expo, visit NCRA.org/Convention.