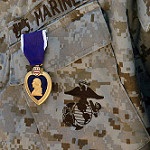 NCRA leaders President-Elect Tiva Wood, RDR, CMRS, a freelance reporter from Mechanicsburg, Pa., and Vice President Chris Willette, RDR, CRR, CRC, a freelance court reporter from Wausau, Wis., will join other volunteers for a special Veterans History Project (VHP) Day taking place at the Association's 2016 Convention & Expo, being held Aug. 4-7 at the Hilton Chicago, Chicago, Ill., in celebration of National Purple Heart Day.
The VHP Day, which will be held Sun., Aug. 7, from 10-11:30 a.m. and 1-2:30 p.m., is being coordinated by NCRA and the National Court Reporters Foundation and will include participation from members of several local chapters of the Military Order of the Purple Heart serving the Chicago area.
"The Veterans History Project is perhaps the most beloved of the Foundation's programs, and all you need to do is participate in one VHP Day to know why," said Jan Ballman, RPR, CMRS, a freelance court reporter from Minneapolis, Minn., and Chair of the Foundation's Board of Trustees.
"To become a part of American history by using our skill set to capture, transcribe, and preserve for posterity the stories of the magnanimous men and women who have served our country and kept us safe and free — there's the great sense of patriotism you experience when honoring and thanking veterans for their service via this wonderful NCRF program, that makes you want to come back and do it again and again," said Ballman.
The VHP Program is one of several oral history projects supported through the Foundation's expanded Oral Histories Program. Since 2003, NCRA members, who volunteer their services, have worked with NCRF and the Library of Congress to record and transcribe the moving stories of many U.S. war veterans, building a lasting legacy of the diverse group of men and women who have served our nation during wartime.
The VHP Program was expanded in 2007 through the 1,000 Voices Initiative, which took the project to the public asking them to interview any veteran they might know. Many veterans have never made any formal record of their wartime experiences but are willing to sit down and talk with someone who will listen. The VHP Program continues to play an important role in preserving veterans' stories. To date, NCRA members have transcribed nearly 4,000 veteran interviews for the Library of Congress.
Charged by Congress in 1958, the Military Order of the Purple Heart is composed of military men and women who received the Purple Heart Medal for wounds suffered in combat. Although membership is restricted to the combat-wounded, the organization supports all veterans and their families with a myriad of nationwide programs held by chapters and national service officers. Its mission is to foster an environment of goodwill and camaraderie among combat-wounded veterans, promote patriotism, support necessary legislative initiatives, and, most importantly, provide service to all veterans and their families.
NCRA and NCRF are expecting about a dozen veterans to participate in the event being held in Chicago and are currently seeking volunteers for interviewers and transcribers. NCRA members interested in volunteering to participate in the event can contact April Weiner, NCRFs Foundation Manager, at aweiner@ncra.org.