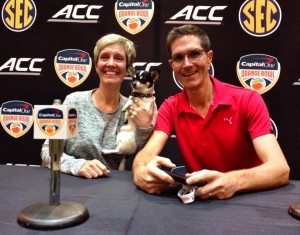 Currently resides in: Ponte Vedra Beach, Fla.
Employment type: Sports reporter
Member since: 1994
Graduated from: Triton College, River Grove, Ill.
Theory: Wiley
What are your favorite briefs?
Sports words that I hear every single day: defense (TKAO-EF), offense (A*UF), ESPN (SP-EPB), NASCAR (TPHA-SBG), PGA (PA-G) … too many to list.
Why did you decide to enter this profession, and how did you learn about the career?
I started at a large freelance firm in Chicago (McCorkle), who sent me in 2001 to do transcripts of press conferences at the John Deere Classic in Moline, Ill. Eventually my current company took over the John Deere Classic job, so I investigated that company to whom we'd lost that client. Since ASAP Sports was a non-competing company with my litigation firm, McCorkle had no problem with my working for both companies. After five years I had fallen in love with my sports job and took it on full time.
What has been your best work experience so far in your career?
I'm a golf nut, so working events on-site at the Masters, the British Open, the U.S. Open Championship, and the Ryder Cup for the first time were all larger-than-life dreams come true.
 What was your biggest hurdle to overcome and how did you do so?
Learning how to perform my job in a media center. Photographers are constantly moving around me with clicking shutters, therefore I wear noise-canceling headphones and get my audio through the mult box (same place the TV cameras plug in). This required cables and equipment not available on the Stenograph website.
What do you consider your greatest professional accomplishment?
A bench trial that I reported in 2012 in Grand Rapids, Mich. I flew in from Florida whenever the judge held court, typically two days in a row, every other week, for about 12 months. I would regularly have 250-300 pages of immediate copy transcript, due to the attorneys by 9 p.m. the same evening, and the judge usually kept us until 4:30 or 5 p.m.. I was never late with a transcript.
Have you had challenges to overcome in your profession?
Learning sports — all of them — and the jargon specific to each.
Is there something else you would like to share?
I met my husband working the Rolex 24 Hours at Daytona (Speedway), and we got married 10 months later. Our first date was the day after my best friend, Kim, had passed away after losing her battle with breast cancer. Besides my husband, my loves are golf, music (mostly classical), and my Chihuahua, Felix.