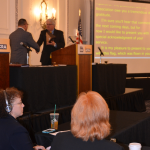 More than 1,000 court reporters, captioners, legal videographers, educators, students, and other legal professionals helped kick off the 2016 NCRA Convention & Expo today at the Chicago Hilton, Chicago, Ill. The event runs through Sunday, Aug. 7, and is the largest gathering of professionals in the court reporting profession.
On the first day's schedule were day-long pre-convention intensive CAT vendor workshops hosted by Advantage Software/Eclipse and Stenograph, as well as start of the Certified Realtime Captioner Workshop and the Realtime Systems Administrator Workshop.
Members in attendance also attended the Annual Business Meeting where they heard NCRA's Secretary-Treasurer's report, remarks by 2015-2016 NCRA President Steve Zinone, and a Constitution and Bylaws Report that included proposed amendments NCRA members will vote on during the convention. During the meeting, Zinone also passed a symbolic gavel to 2016-2017 NCRA President Tiva Wood, who will be sworn into office officially during the Premier Session on Saturday, Aug. 6.
Another highlight included the annual National Committee of State Associations where leaders from 38 states were in attendance to share ideas and learn more about the latest in NCRA member resources, mentoring at the state level, and updates about promoting the profession.
In addition, a record number of 50 contestants turned out for the 2016 National Realtime Contest, while more than 40 contestants let their fingers fly on Tuesday, Aug. 3, during the 2016 National Speed Contest.
Networking events included the Only New Once Reception and the Opening Reception in the Expo Hall.