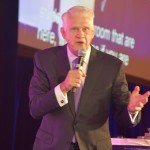 Professional speaker and humorist John Wagner entertained attendees at the Premier event held Aug. 5 during NCRA's Convention & Expo at the Hilton Chicago, Chicago, Ill., Aug. 4-7. He tackled the issue of getting out of your comfort zone.
"You are the architect of your future. You need to recognize that there are two basic behaviors – things we can really control like what we do and what we think – that we can use to help us break through our comfort zones," he said.
Wagner noted that change is not only throughout our society but within every profession, and further suggested that by through the power of engagement, we can help reduce stress caused by change and expand our comfort zones.
Wagner spent his time on stage engaging the audience by having them participate in fun activities that led to belly laughs and asking for and offering help to the person beside them.
"Humor is a powerful tool we can use to help relieve stress and connect socially. Supporting those social networks is critical in helping to get past the edge of our comfort zones," he said.
Wagner, who has helped thousands across the country laugh and learn through the use of humor, has presented more than 500 professional programs to clients that have included the American School Counselor Association, BFGoodrich, Blue Cross Blue Shield, General Electric Co., Honda Motor Co., IBM, the IRS, Toyota, and others. He holds a bachelor's and master's degrees from the University of Cincinnati and is a licensed clinical counselor and a nationally certified counselor, and he also is certified in reality therapy.
Other highlights of the Premier Session included the installation of NCRA's 2016-2017 Board of Directors, the recognition of guests from outside the United States, as well as VIPs, certification holders, and past presidents. In addition, 2016-2017 NCRA President Tiva Wood, RDR, CMRS, delivered her first address as the Association's new president.
Attendees at the convention were also treated to an array of sessions and educational workshops designed to help them increase their professional experience and hone their skills. Among some of the sessions were:
The secret business of court reporting, led by Debbie Bridges Duffy, RPR, told attendees was to embrace personal productivity. "I stopped feeling overwhelmed when I started feeling the effects of personal productivity." She offered a story, saying that learning to be intentional about her planning and goals helped her focus her attention on what is most important in her personal and business lives.
"Have an intention and a plan for everything you do. I create a space in my day, my week, and my month for everything I want to do," she continued. She also suggested that attendees be deliberate about networking.  "You don't always have the time to see the people you want to, so be intentional. There is power talking to everyone and asking them questions. Listen to what they need," she said.
Anissa Nierenberger, RPR, CRR, CRC, CRI, led a session called Terminate transcript turmoil in which she shared how small changes such as getting in the habit of correcting untrans in your dictionary immediately after you find them, can equal big results, especially if the same mistake pops up with every edit of a transcript.
In another session, a panel of NCRA members addressed Working from home: the good, the bad, and the ugly. Attendees at this session learned more about the pros and cons of balance life when your office is at home and garnered some tips such as setting up your desk in a way that's comfortable or changing the way it is to make it feel more inspiring to you; ensuring you have some time set aside during the day to do some activities to keep from feeling isolated, and  which addressed the pros and cons of balancing work and life when your office is at  home; and learning to structure your schedule around your kids so you can still enjoy a great career and not be absent from their lives.
According to NCRA's newest member, Stephanie Weaver, who walked into the 2016 Conference & Expo, "I'm here because the NCRA conference represents the crème de la crème."