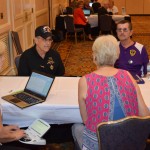 By April Weiner
To commemorate Purple Heart Day on Aug. 7, NCRA and its charitable arm, the National Court Reporters Foundation, hosted a Veterans History Project Day, sponsored in part by AristoCAT, at the Hilton Chicago on the last day of NCRA's Annual Convention & Expo. Eight Purple Heart recipients from Chicago and the surrounding area gathered to share their stories, which will be preserved at the Library of Congress as part of the Veterans History Project collections.
The court reporting profession was on full display as representatives from several Chicago media outlets were on hand to witness court reporters transcribe the stories of eight Vietnam veterans: Allen Bush, John Domina, Dan Finn, Jim Furlong, Rich Hoffman, Ken Laforge, Mike Lash, and Tom Vargas. (Hoffman's interview was taken via Skype.)
Laforge and Domina served together and shared their stories together at the event. 46 years ago, they had been injured alongside one another. Laforge sustained a brain injury, and Domina a cracked skull and two busted eardrums. These veterans weren't heralded for their heroism and sacrifice upon their return as previous generations of soldiers had been.
"There was no welcome home; it just didn't happen," Domina told The Chicago Tribune. "Even your family didn't want to hear your story. Nobody cared. It was expected that you forget what you did and get a job. It's amazing that 50 years later people are interested."
Vargas concurred.
"The Vietnam Vets were not treated very well when we came back and it was great to get some recognition [at this event] after all these years," said Vargas. "I hope your organization will continue to recognize all veterans, especially the Purple Heart Recipients. Again, I want to thank you all and thank [you] for listening."
NCRA members have been listening and taking down veterans' stories since NCRF partnered with the Library of Congress in 2003 to have court reporters transcribe veterans' stories from their collection of more than 90,000. In 2013, members were asked to preserve the stories of veterans who hadn't yet recorded their histories through personal interviews and VHP Days. To date, NCRF has submitted almost 4,000 transcripts to the Library of Congress.
"Thank you for the opportunity to be a participant in this endeavor. I am amazed at what your organization is doing for the veterans and do appreciate the efforts of all that are involved," said Bush.
Laforge and Domina were interviewed by NCRF Chair Nancy Hopp, who is the daughter of a Purple Heart recipient from World War II. Her father shared the story of his combat injury on his death bed. Hearing the veterans' stories helps give perspective to what these courageous men and women endured.
"It makes you realize that (they have) lived through something really horrendous and done the best they can with that experience inside of them," Hopp told The Chicago Tribune. "[My father] wanted to get it out one last time so we could understand what he had gone through."
Perhaps wanting to avoid reliving the atrocities of war, or for the veterans being stifled by war's stigma, many veterans have never shared their stories.
"It dawned on me that veterans don't go out there and tell these stories," Jim Furlong, who lost a leg in Vietnam, told The Chicago Tribune. "That's a disservice to the people who didn't come back. That's a disservice to the people I'll always remember being 20 years old. I'm their voice."
"Many friends nominated me for the Medal of Honor, which was quite touching," Furlong shared. "But I think overall my message that this was being done for those who can no longer speak for themselves was well received. That was my intent. I speak today for Mike Nathe, Ernie Gallatdo, Mike Simpson, Steve Whire, and so many others and not for my own ego. They are always first and foremost on my mind."
It's imperative to capture veterans' histories now, as upwards of 1,000 veterans die each day.
Fellow Vietnam-era veteran, Mike Nelson, who is also NCRA's CEO and Executive Director, underscored why preserving veterans' stories is so important.
"Maybe we can learn from their experiences and recognize what a devastating situation war is," Nelson told The Chicago Tribune, "and understand from their emotional perspective why there's always a need to avoid it."
Dan Finn, the commander of the Illinois chapter of the Military Order of the Purple Heart, was interviewed at the event by NCRA President-elect Chris Willette. Finn lost a leg, and now has an American-flag emblazoned prosthetic in its place. On his way out, Finn spoke about the organization. Membership requires having been injured in combat, so as he told his own son, currently serving: "You don't want to be a member." In fact, Finn hopes that future generations won't even have the organization as a result of no more injuries in combat. .
Until that day arrives, NCRA members will continue to record the poignant stories of America's war veterans.
The Purple Heart can be traced back to the Badge of Military Merit, first bestowed upon a soldier on Aug. 7, 1782, by George Washington, in the form of purple silk heart to be worn over the left breast. The award was revived and renamed in 1932 in honor of what would have been Washington's 200th birthday that year. Since then, more than 1.7 million of the medals have been awarded.
"We preserve history each day when we do our jobs as court reporters and captioners," said NCRA President Tiva Wood, RDR, CMRS, a freelance reporter from Mechanicsburg, Pa.  "Participating in the Library of Congress' Veterans History Project allows us to use our skills to help honor our veterans and ensure that their stories are forever preserved for future generations," said Wood who, along with her husband and son, interviewed veterans at the Purple Heart event.
In addition to giving a voice to these eight veterans, the VHP Day was a chance to showcase the talents of stenographic court reporters and how they use their skills to preserve history for posterity and research. The event merited significant coverage of the profession and the VHP from the following media outlets:
AJC (Atlanta Journal-Constitution) — Purple Heart recipients tell of sacrifices
Post Star (N.Y.) — Purple Heart recipients tell of sacrifice they shed blood for
For more information about NCRF's Oral History Program, visit NCRA.org/NCRF.
April Weiner is the Foundation Manager for the National Court Reporters Foundation. She can be reached at aweiner@ncra.org.