Although the kick-off for NCRA's fifth National Court Reporting & Captioning Week is still weeks away, members have already begun reporting activities that are showcasing the court reporting and captioning professions. NCRA's 2017 Court Reporting & Captioning Week is set for Feb. 11-18.
In Texas, for example, the state's court reporter association's Student Recruitment Task Force has already reported career fairs and school visits in high schools and community colleges in areas such as Brownsville, Corpus Christi, Houston, Midland-Odessa, and San Antonio. A recruitment event hosted by the Rio Grande Valley Court Reporters in Hidalgo County also generated a feature story on local television station KRGV Channel 5.
Meanwhile, in Massachusetts, members of the state court reporters association introduced students at a local vocational school to the court reporting and captioning professions. Many students attending the event expressed interest in the profession, and several said they would be willing to participate in an introduction to machine shorthand class.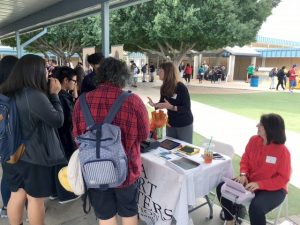 Students at McClintock High School in Tempe, Ariz., were also recently introduced to the court reporting and captioning professions during a career day held in mid-November. NCRA members Doreen Sutton, RPR, a freelance reporter from Scottsdale, and Cindy Lineburg, RPR, and Amy Weaver, RPR, official court reporters from Phoenix, were on hand to showcase realtime writing. The students also had a chance to try out a machine and watch their names come up on iPads.
"Many of the students were interested in an introduction to steno class in order to test the possibility of enrolling in a stenography course as well as learning more about their options for future employment," Sutton said.
Some of this early activity can be attributed in part to the friendly challenge issued by the National Committee for States (NCSA) during the NCRA Convention & Expo held this past August, according to NCSA Chair Mary Bader, RPR, an official court reporter from Medford, Wis.
"This is the third year NCSA has issued this friendly challenge among members and state associations to promote our profession as a viable career path as well as to showcase the important work court reporters and captioners do both in and out of the courtroom. The response to the NCSA challenge has boosted activity across the nation each year, and it is exciting to see folks engaging early in celebration of our unique professions," Bader said.
"We are hopeful that court reporters and captioners in every state will seize the opportunity to showcase our great profession during the 2017 Court Reporting & Captioning Week," added Bader.
The NCSA challenge calls on all state associations to join forces with their members to spread the word about the benefits of a career in court reporting or captioning for the chance to win complimentary registrations to NCRA events or vouchers for continuing education. Recently, NCSA shared some tips for planning a student demonstration, which can be found on NCRA's Court Reporting & Captioning Week resource page.
NCRA's National Court Reporting & Captioning Week is designed to encourage members of the court reporting and captioning professions to celebrate their careers by hosting special events within the community and more.
In the past, an array of events have marked the week, including securing official proclamations recognizing the occasion, school and firm open houses, Veterans History Day projects, media outreach, and more.
In addition to the many resources available through NCRA.org/Awareness, the Association is also encouraging members and state associations to consider using several new resources made available this year through its Take Note campaign. The Take Note materials are designed to target specific markets for potential new students. NCRA's Take Note campaign is based on an industry-wide outlook report conducted by an independent research firm that determined that there is a growing need for qualified people to fill jobs coming open in the court reporting and captioning fields.
The new messaging resources are part of a newly designed "Fresh Perspectives" toolkit created as part of the campaign's phase two track to help identify, attract, and retain new students. New messaging is featured on two-sided rack cards, which were created to appeal to high school students, career changers, college students who have withdrawn, and veterans and their spouses. Each of the cards also features the text: "A career in court reporting can give you a fresh perspective." The rack cards are available to view and download at crTakeNote.com. The new resources can be downloaded and printed and used at various events held to help promote and showcase the profession.
The ways to celebrate 2017 Court Reporting & Captioning Week are unlimited. To learn more how you can celebrate the week or to find the latest in resources, including press release templates, media pitches, presentations, and more, visit the Resource Center on NCRA.org or contact the NCRA communications team at pr@ncra.org. And don't forget to share with NCRA what you plan to do to celebrate.