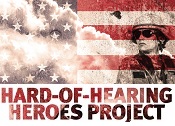 The National Court Reporters Foundation (NCRF) recently won a $10,000 Innovation Grant from the American Society of Association Executives (ASAE) Foundation. The grant supports NCRF's new program, the Hard-of-Hearing Heroes Project, which seeks to preserve the stories of America's war veterans with hearing loss using CART captioning. The Hard-of-Hearing Heroes Project is an offshoot of NCRF's continued work with the Library of Congress Veterans History Project (VHP). NCRF will use grant funds to host Hard-of-Hearing Heroes VHP Days across the nation.
"NCRF is honored to be one of the recipients of this extremely competitive grant that allows us to expand our work preserving the accounts of America's veterans," said Mike Nelson, CEO and Executive Director of NCRA and NCRF. "Receiving this grant showcases our organization and the court reporting profession to tens of thousands of association executives across the country. In addition, it promotes our members' services to thousands of members of veterans and hearing loss organizations at whose conventions NCRF will host Hard-of-Hearing Heroes VHP Days, including our partners the Association of Late-Deafened Adults (ALDA) and the Hearing Loss Association of America (HLAA)."
NCRF is one of four recipients of the ASAE Foundation's Innovation Grants, which receives more than 100 applications each year.
"Since the ASAE Foundation started the Innovation Grant Program (IGP) five years ago, we have received a number of outstanding applications that illustrate the innovative work associations are doing to help improve the industry. The committee had a hard time selecting four winners again this year," said Paul K. Farrell, 2016 chair of the IGP steering committee and associate director of audiology professional practices at the American Speech-Language-Hearing Association. "Congratulations to the winning associations!"
The inaugural Hard-of-Hearing Heroes Project VHP Day event will be on Feb. 18 at HLAA's headquarters in Bethesda, Md., in conjunction with Court Reporting & Captioning Week. NCRF will also host events at HLAA's annual convention in Salt Lake City, Utah, in June and at ALDA's annual convention in Orlando, Fla., in October.
"HLAA is delighted to work with the National Court Reporters Foundation on the Hard-of-Hearing Heroes Project. It is vitally important that veterans' wartime experiences are preserved for generations to come and are accessible to people with hearing loss," said Nancy Macklin, Director of External Affairs & Events for HLAA. "As a token of appreciation for their service, HLAA provides veterans with hearing loss a complimentary membership and convention registration. HLAA will assist NCRF in recruiting veterans with hearing loss to be interviewed for this project."
Four veterans will be interviewed at each of three sessions on Feb. 18. The sessions are 9-10:30 a.m.; 11 a.m.-12:30 p.m.; and 1:30-3 p.m.
For each veteran's interview, NCRF will need a volunteer to interview the veteran, a captioner to provide realtime for the veteran, and a reporter to transcribe the interview for the Library of Congress. Both the court reporter and captioner may earn 0.25 PDCs for each veteran interviewed.
If you would like to volunteer at the Feb. 18 event, please contact April Weiner, NCRF Manager, at aweiner@ncra.org.