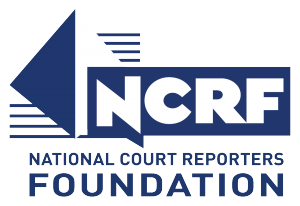 The National Court Reporters Foundation, the charitable arm of the National Court Reporters Association, announced that Nancy Hopp, RDR, CRR, CMRS, of St. Louis, Mo., has become the latest donor to NCRF's Major Gifts Program at the Silver level. Hopp currently chairs the Foundation's Board of Trustees.
"My gift to the Foundation is given with gratitude for the many ways court reporting has enriched my life. It has allowed me to meet interesting people and hear fascinating things, to travel, to expand my knowledge of the world and of technology, and, most importantly, to provide a comfortable living for my family," said Hopp.
Hopp joins founding Platinum donor Veritext, based in Livingston, N.J., and Silver donors Debra K. and Jeffrey M. Cheyne from Sherwood, Ore.; Jan Ballman, RPR, CMRS, owner of Paradigm Reporting in Minneapolis, Minn.; and B.J. Shorak, of Vienna, Va.
Major Gifts donors make contributions of $5,000 or more in a calendar year. There are three contribution levels: a Silver contribution, which reflects donations of $5,000 to $24,999; a Gold contribution, which reflects donations of $25,000 to $49,999; and a Platinum contribution, which reflects donations of $50,000 and higher. Donations through the Major Gifts Program support all of NCRF's programs.
"NCRF, through its charitable works, casts a positive spotlight on the good works of reporters through scholarships, grants, the Corrinne Clark Professionalism Institute, the Legal Education Program, and the Oral Histories Program. I view my Major Gift as but a small thank-you for the many incredible benefits that court reporting has brought to me," said Hopp.
NCRF launched the Major Gifts Program at the 2015 NCRA Convention & Expo in New York City.
Contributors to NCRF's Major Gifts Program are required to adhere to the program's donation policy, which includes a review by a Major Gifts Donation Committee, a written agreement by the donor to abide by NCRA's Constitution & Bylaws and its Code of Professional Ethics, and the agreement to ensure all donated funds are received by NCRF in a specified time.
For more information about NCRF's Major Gifts Program, contact NCRF Deputy Executive Director B.J. Shorak at 703-556-6272 or bjshorak@ncra.org.