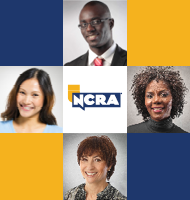 If making a difference is one of your new year resolutions, there's still time to step up and nominate yourself or a colleague to serve on NCRA's 2017-2018 Board of Directors. The deadline to submit a nomination is Jan. 20. Nominations should be submitted to boardnominations@ncra.org.
"I am a believer in giving back, which is why board service at the state and national level were important to me," said Michele Melhorn, RMR, an official court reporter from Arlington, Va., and former director. "I was handed great mentors, made great friends, and learned a lot about myself." Melhorn served a three-year term on the Board from 2013-2016.
Service on NCRA's Board of Directors also offers the opportunity to help shape the Association and have a positive influence on the profession as a whole.