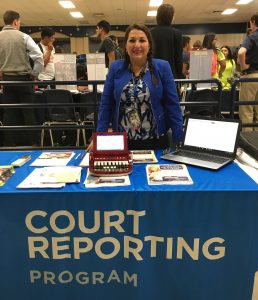 For the past three years, the National Committee of State Associations (NCSA) has issued a friendly challenge among state associations and individuals to spread the word about the benefits of a career in court reporting or captioning. Participants had the chance to win complimentary registrations to NCRA events or vouchers for continuing education. Erminia Uviedo, RDR, CRR, a freelance court reporter from San Antonio, Texas, has won the grand prize of a complimentary registration to the NCRA Convention & Expo for the last two challenges.
In an interview about her first win, Uviedo said her goal was to win again in 2017 by beating her own record of coordinating participation in 26 school career fairs. And top honors she did earn by coordinating volunteers for participation in 32 career fairs and college nights in the San Antonio area.
The JCR Weekly reached out to her to learn more about what motivates her to put so much effort into promoting the profession.
How many career fairs did you organize for court reporters to participate in during this last NCSA challenge?
I contacted, reserved tables, and coordinated volunteers for 32 career fair/college nights, mainly in San Antonio, but also reached out to some schools in South Texas, West Texas, and North Texas.
How many of those did you participate in?
I participated in seven events as a presenter.
How did you identify events to participate?
This year, I tried to add schools we didn't reach last year, and we returned to the schools that had a good setup for meeting students. I also searched the Web for advertisements for college nights for certain areas.
How did you recruit volunteers to help?
I posted on Facebook asking for volunteers again and had a lot of returning volunteers. They were so excited to help again. I reached out to certain court reporters I knew in other areas that have always been willing to help. I was very happy with recruitment in the Rio Grande Valley (McAllen and Brownsville). They began recruiting just this year and had seven successful events. I expect more activity next year. #teamwork
What is the biggest factor motivating you to reach out to participate in so many career day events?
My motivating factor has been the threat of court reporting school closings. So many court reporting schools have been closing as of late. San Antonio College had that threat a few years ago. We had 37 students enrolled at the time, and I made it my personal goal to see if we could attain 100 student enrollments. With 67 currently enrolled, we are well on our way.
What have some of the responses been from students learning about court reporting for the first time?
Students are always in awe of the technology. They are amazed. When I tell them it's like texting, they are even more intrigued.
Do you know of any students who have followed a career path in this profession because of career fairs you have participated in?
Yes, I do, more than a couple. I always ask: Where did you hear about us? Some have said career fairs. Some have said Facebook posts. Some just knew somebody who knew somebody who was a court reporter.
Do you serve as a mentor for current court reporting students? If so, why?
Because court reporting is such a unique skill, students need motivation to keep going. Family members and friends don't understand their frustration in getting a 95 percent on a test. But reporters definitely do. We can definitely relate. Sometimes all students need is a friendly ear.
But working reporters also provide valuable information to students, likes tips on practicing, writing shorter, writing cleaner, dealing with test anxiety, and being professional. All of our San Antonio College court reporting students get sponsored to attend our state convention; every single one. Since our San Antonio Elite Mentorship Program got off the ground two years ago, we have so many more students advancing. The first year we had six sit for the certified shorthand reporter exam, more than we did in many years. This year we expect to have another five, at least.
I am assuming you have fun participating in these events. What is the best part of participating for you?
I love demonstrating realtime for students. I love to write what they are saying, and they get such a kick out of it. They are always fascinated, as are the teachers, counselors, and parents.
What advice would you give to other reporters thinking of participating in career fairs?
I would definitely tell them it's a team effort. If they can get together a group of reporters who are all willing to cover these fairs in a certain area, that would be the best approach. Reporters' schedules change daily, so, if a whole team is together and willing, the process of getting them all coordinated and covered will go that much smoother.
What is the best part of attending a national convention?
My first NCRA convention was in Las Vegas back in 2011. At the time, the best part for me was being kept apprised of all the issues facing our profession. I love advancing my skills. The first NCRA convention, I was excited about Realtime Coach. It was just starting. And I loved the concept because I was working on my realtime at the time. This past year, I was excited about attending the captioner's workshop and learning about the field of captioning.
What are you looking forward to most about this year's convention?
I loved meeting court reporting students and new reporters last year. I love to hear their stories of where they are working now, where they went to school, what they did to overcome obstacles, or how they practiced. Any tips I can bring back to our students.
You were also a recipient of a JCR Award this year. Were you surprised? What is so important about earning this award?
Yes, I was a little surprised. I feel so honored to have been recognized by NCRA. What an accomplishment! I feel it's like winning an Emmy.
What is your goal for next year's NCSA challenge?
I would love to reach more schools in the Rio Grande Valley, try to increase recruitment to 10 next year, as the Rio Grande Valley has been feeling the shortage for a while now and it's such a wonderful place to live and work.
I feel that every state needs to form a Student Recruitment Committee or Task Force. Map out your state and get to work! It's not difficult at all. There are plenty of schools and recruiting opportunities. We just need the volunteers to cover them. We can keep our court reporting schools open!