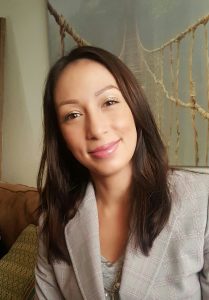 Currently resides in: Orange County, Calif.
Employment type: Freelance court reporter
Member since: 2009
Graduated from: Bryan College
Theory: StenEd
What are your favorite briefs or tips?
NOIMD – "not calculated to lead to the discovery of admissible evidence." It is a godsend to brief this onerous phrase!
Why did you decide to enter this profession and how did you learn about the career?
In 2007, I was a single parent with a son entering kindergarten. I had been working in the restaurant industry, bartending and waiting tables, and I had made a promise to myself that when my son entered school, so would I. I learned about the profession, however, from a patron of the bar at which I worked. She was always happy and smiling and seemed to have plenty of leisure time for lunch (I'm not sure how, as I rarely get long lunches myself!), and it seemed like a career worth pursuing based on my skillset. I always had a strong grasp of the English language, and I had played the piano since childhood. I was fortunate enough to find Bryan College, one of the few schools at that time to offer online courses. I signed up in April of 2007, and I graduated and passed the California CSR in 2010.
What has been your best work experience so far in your career?
In my short career, I consider myself very blessed to have had a host of opportunities to give back to the profession through my volunteer board service. Working with the Deposition Reporters Association of California as their incoming president-elect and serving on various NCRA committees has been invaluable to me in building my professional network and expanding my understanding of the industry. Interfacing with student membership and observing their enthusiasm always galvanizes me to continue my volunteer pursuits within the profession. In addition, I have also had the fortune of forming a handful of lifelong friendships in the time that I've served on the board with some of the most amazing minds in the business. I can't emphasize enough how influential these experiences have been in both my professional and personal life.
Do you have a favorite gadget or tool? Why is that your favorite?
Two things definitely come to mind. In terms of sheer efficiency, my Dymo Labelwriter has been singularly the best investment I've made thus far. Writing out exhibit stickers can be such a pain! But overall, I am most thankful for access to LiveLitigation and their realtime system. Using LiveLitigation's equipment to provide realtime to my clients (including their new, compact realtime router) has been immensely rewarding, both professionally and financially, and their customer service is unparalleled.
What is your favorite book or movie?
I have NCRA to thank for the discovery of my all-time favorite book. I had picked up Tom Wolfe's The Right Stuff to read in order to obtain CEUs for my RPR certificate, and I was hooked from the very first chapter. Wolfe's chronicle of the inception of manned spaceflight, from Yeager to Gagarin, is simply spellbinding.
Is there something else you would like to share?
I am a busy girl outside of court reporting! I love to crochet, play the piano, and work out at my local CrossFit gym. I am an avid Jeopardy! watcher. I also have two of the cutest cats on this side of the Mississippi and an almost 15-year-old son who challenges me to be better every day.