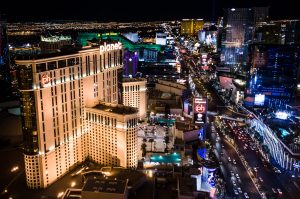 NCRA members attending the 2017 NCRA Convention & Expo in Las Vegas, Nev., are reminded that, by booking their stay at Planet Hollywood Resort & Casino, they not only receive a specially negotiated room rate as well as a lower daily resort fee in a four-star hotel but they are also supporting their Association.
When NCRA negotiates special room rates at hotels serving as the host site of its meetings, it also is able to secure valuable savings on meeting rooms and exhibit space. Such negotiations are standard practice in the association-meeting world. Another standard practice is that the hotel negotiates that the group holding the event is responsible to incur the costs of any unreserved rooms. The reason is simple. When hotels negotiate with groups for sleeping and meeting space, the sleeping rooms are held in a block, which means they are not made available to other guests. Rooms unfilled in a hotel's room block can often create a financial burden on the organization holding the event because the hotel's loss is commonly passed along to the hosting organization, and that, in turn, typically causes the costs of future events to increase.
Great savings on a four-star hotel is just one major benefit to staying in a host hotel when attending an event. Other benefits include convenient access to meeting rooms, the expo site, networking opportunities, and a guest's reserved room. For the Planet Hollywood venue, guests will also enjoy the convenience of nearby shopping, top-rated restaurants, spas, and more.
The bottom line is that staying at the conference hotel gives attendees a better conference experience and helps keep registration rates low. Do your part to support NCRA and to help ensure costs of future events are kept at the lowest rate possible, not just for you, but for others in your profession who also attend them.
"NCRA is committed to supporting its members by providing the best value possible. One such member benefit includes lower lodging rates and registration fees related to annual events," said NCRA President-elect Chris Willette, RDR, CRR, CRC. "We appreciate our members who are committed to supporting their Association by taking advantage of the special room rates negotiated on their behalf with Planet Hollywood. The 2017 Convention & Expo — 'Magic at Your Fingertips!'— is sure to be an exciting and fun-filled event."
Top five reasons to stay at the Planet Hollywood Resort & Casino during the 2017 NCRA Convention & Expo
Opportunity to win — NCRA is offering prizes to those staying in the discounted room block at Planet Hollywood, including a refund of your entire convention registration and a Kindle Fire tablet to those who additionally download the app.
Organic networking opportunities — There are always convention attendees in the lobby, at the coffee shop, or in one of the several restaurants located in Planet Hollywood, providing additional chances for networking outside of scheduled events.
Fast commutes — Staying at Planet Hollywood means a quicker trip to meeting rooms and networking venues as well as the ability to zip back to your room for a quick break without missing all the magic the convention has to offer.
More time on the expo floor — Attendees who stay at Planet Hollywood will spend less time walking or taxiing to off-site lodging locations and more time on the expo floor.
Shopping and dining at your fingertips — Planet Hollywood offers its guests easy access to top-rated restaurants and exciting shops all under one roof.
Book your hotel and register now.