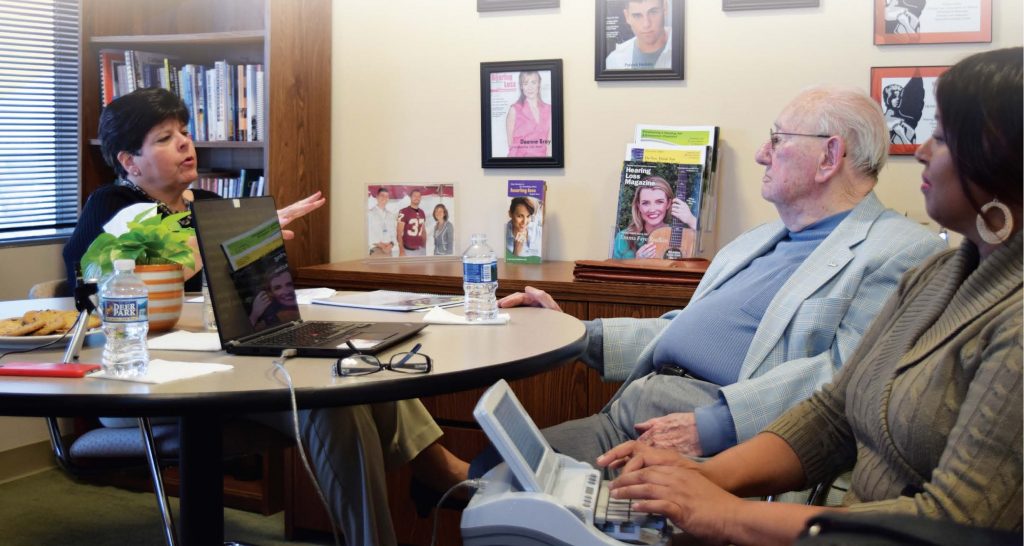 NCRF's new Hard-of-Hearing Heroes Project takes the Veterans History Project to the next level
By April Weiner
Edward Connor was dining in the mess hall when the Japanese bombed his base during World War II. Everyone was running for cover in a nearby ditch. "I landed on a guy and said to him: 'As soon as we get out of this, I'll take my feet out of your face,'" Major Connor told NCRA President Tiva Wood, FAPR, RDR, CMRS, who was interviewing him for the Veterans History Project (VHP). "He said, 'You leave your feet where they is,'" since the feet were protecting the other soldier's head. Major Connor lost most of his hearing when one of the bombs struck an airplane close to the ditch, but that didn't prevent him from finishing his mission before returning home to seek treatment.
Connor, who served in the Air Force, was one of five veterans with varying degrees of hearing loss who chronicled their service experiences for the VHP at the National Court Reporters Foundation's launch of its Hard-of-Hearing Heroes Project at the Hearing Loss Association of America (HLAA) headquarters in Bethesda, Md., on Saturday, Feb. 18. The other veterans interviewed were: Fred Becchetti, who served in the Army Air Corps in World War II; David McWatters, who served in the Marine Corps during the Vietnam War; Charles Rupprecht, who served in the Navy during the Vietnam War; and James Whitcraft, who served in the Air Force during the Persian Gulf War, among other conflicts. (Rupprecht and Whitcraft were interviewed over the phone.)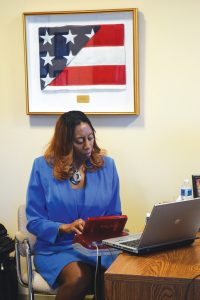 Court reporters and captioners traveled from as far as southern Virginia and Pennsylvania to volunteer their time and skills to preserve these veterans' experiences for the VHP.
"Veterans always thank the court reporters who capture and transcribe their stories at events like the Hard-of-Hearing Heroes Project," said Wood, who is a freelancer based in Mechanicsburg, Pa. "But truly, we are the ones who are thankful for being given the opportunity to honor them by ensuring that their stories become part of history forever through the Library of Congress Veterans History Project. Being able to capture and preserve the stories of our war heroes who are hard of hearing takes a combined effort of the skills of court reporters and captioners and highlights the important role they play in allowing this group of veterans to tell their stories."
In addition to Wood, the volunteers at the event were Cheryl Hansberry, RDR, CRR, CRC, Harrisburg, Pa., and her husband, Mike; Linda Larson, RPR, CRI, Carlisle, Pa.; Glynis Locks, Norfolk, Va.; Michelle Houston, RPR, Brandywine, Md.; Karyn Menck, RDR, CRR, CRC, Nashville, Tenn.; Jan Hamilton, RDR, Arnold, Md.; Christina Hotsko, RPR, Arlington, Va.; and Meredith Dattoli, Bethesda, Md.
Hamilton transcribed Major Connor's interview: "The most memorable thing for me was hearing [Connor] speak of the various battles, in the air and on the ground, and his bravery that led to him ultimately being awarded the Silver Star. It was a humbling experience to meet a decorated soldier of this era."
Dattoli interviewed Rupprecht, and the experience was personally meaningful for her. "The most interesting part of our conversation to me was the fact that his hearing loss was the result of an accident," said Dattoli. "He was only 21 or 22 when, while participating in training exercises, he happened to be right next to a missile that accidentally went off, which led to the hearing loss that he still experiences today, more than 40 years later. In the grand scheme of things, he was lucky that nothing worse happened, but his story really opened my eyes to how much the men and women in our military sacrifice every day, even if they aren't on the front lines." She added: "Having the opportunity to interview Mr. Rupprecht and hearing his story hit especially close to home for me because my older brother is in the Navy and my boyfriend is in the Army, and I have a higher appreciation now for how lucky they have been."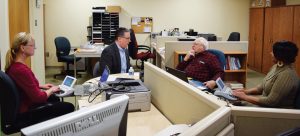 NCRA members have been listening and taking down veterans' stories since NCRF partnered with the Library of Congress in 2003 to have court reporters transcribe veterans' stories from their collection of now more than 100,000 oral histories. In 2013, members were asked to preserve the stories of veterans who hadn't yet recorded their histories through personal interviews and VHP Days. To date, NCRF has submitted more than 4,100 transcripts to the Library of Congress.
"This was one of those special moments in life where I was doing something for someone else," said Larson. "[McWatters'] story will be preserved because I was there providing court reporting and then later transcribed it. His story will be stored at the Library of Congress and be a part of history."
The Hard-of-Hearing Heroes Project is a new NCRF initiative that specifically seeks to interview veterans with hearing loss for the VHP with the help of CART captioning. This is important because hearing loss is among the most common service-related injuries due to constant exposure to loud noises in training and in combat. Hearing loss also tends to worsen over time. In addition to preserving these veterans' stories for the VHP, the Hard-of-Hearing Heroes Project introduces CART captioning, which is a service that may benefit these veterans in their daily lives.
"One can't help but become engrossed while listening to these amazing veterans tell their stories as if it were yesterday," said Houston. "[Major Connor's] wife reminded him to share events and awards he had left out to ensure we got the whole story. We were eager to hear it as well. It was a privilege and an honor to provide CART captioning for this project."
Washington D.C.'s news channel NBC4 came to the event and heard from two of the veterans interviewed, Becchetti and McWatters, as well as NCRF Deputy Executive Director B.J. Shorak. "I was surprised to be on the Channel 4 News so much and that it was mostly as a hand model," said Larson. "It was one of those days where you just don't know what you're getting into and you leave feeling like, I'm happy that I was there. It was a good day."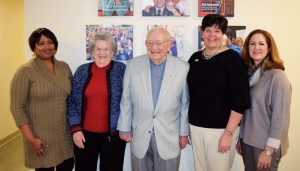 NCRF will host Hard-of-Hearing Heroes VHP Days across the country, supported by an Innovation Grant from the American Society of Association Executives Foundation. The next event will be held during HLAA's annual convention in Salt Lake City, Utah, in June, and a third event is planned in conjunction with the Association of Late-Deafened Adults' annual convention, which will be held in Orlando, Fla., in October.
For more information, please visit NCRA.org/NCRF.
April Weiner is the National Court Reporters Foundation Manager. She can be reached for more information at aweiner@ncra.org.