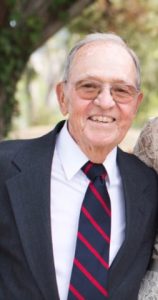 Some of the greatest contributions to the profession of court reporting have been those made by persons who never were court reporters. So it was with my very dear friend of many years, Bert Mawhinney.
I met Bert and his wife, Anne, in 1982. I was the captioner on the team at the National Captioning Institute (NCI) in Falls Church, Va., that was assembled to develop and implement realtime closed captioning. Bert was the president of Xscribe, a computer-aided transcription hardware and software manufacturer. When visitors came through NCI, everyone wanted a demonstration of the unique work we were doing, which we had used by that time to caption the 1982 Academy Award Presentations and some special events on ABC Television.
Upon seeing the system, Bert said that Xscribe would be very interested in someday developing a realtime captioning system. I did not give that much thought at the time, but I did think what nice people Bert and Anne, who lived in San Diego at the time, were.
Bert was born in Washington, D.C., on April 26, 1928. From an early age, he loved aviation. He got his pilot's license for his 16th birthday. Bert went on to receive a bachelor's degree in aeronautical engineering from Rensselaer Polytechnic Institute, with special recognition in scientific and mathematical studies. He and Anne were married in 1955 and moved to San Diego, where he was employed by Convair, later to become part of General Dynamics, for 23 years. Bert's last assignment for Convair was as the project manager for the guidance system for the Tomahawk cruise missile.
Anne was a court reporter when in 1978, watching Anne dictate her notes, Bert decided he would develop an optical reader and computer transcription system for court reporters. That decision was what led to the formation of Xscribe Corporation and the subsequent development of the StenoRam computerized stenomachine.
In 1984, I had left my employment at NCI and was working as a freelance reporter using Xscribe's CAT system. Sometime thereafter, my friends and fellow freelancers Joe Karlovits, Ed Fulesday, and I founded the first for-profit closed captioning service, what eventually would become VITAC Corporation. Needing a realtime captioning system, I remembered what Bert said some years before, so I contacted him, and we arranged to meet in Boston to tour the Caption Center, and from there to travel on to Toronto,to the Canadian Captioning Development Agency, where I introduced Bert to my friend and realtime captioner, Peter Jepsen. Peter arranged a late evening demonstration, along with Xscribe technician Rod McPherson, of what they were clandestinely working on, a primitive capability for the Xscribe computer to generate and display closed captions.
From Toronto, Bert and I flew to Washington, D.C., where with Joe Karlovits we generated the designs for what would become the Xscribe Captioning System. Bert flew Rod McPherson to San Diego and then Pittsburgh, where further development was done. With Bert and Anne in attendance, the system was used on the air for the first time to caption the local KDKA Pittsburgh Evening News. Eventually it developed into the first realtime captioning system to achieve widespread distribution, greatly enhancing the lives of untold numbers of deaf and hard-of-hearing caption viewers.
In 1985, the NCRA Board of Directors voted to implement the first realtime "Courtroom of the Future," in Wayne County, Mich. Bert volunteered Xscribe to partner with NCRA, as the CAT hardware and software provider. The Courtroom of the Future turned out to be a great public relations success for NCRA and the reporting profession, and Bert subsequently volunteered Xscribe to again partner with NCRA on the second "Courtroom of the Future," in the United States District Court in Phoenix, Ariz., again with remarkable benefits for the reporting profession and NCRA.
Bert and Anne were always a visible presence at every NCRA and many state association conventions, and Bert made himself to be always available to assist reporting associations. He and Anne traveled to Intersteno on several occasions, including one time for a meeting behind the Iron Curtain, in Dresden, East Germany, with my wife and me. I still have memories of Bert grinning from ear-to-ear while conducting an oompah band wearing a traditional Bavarian hat in a tent at a festival in Bavaria.
Upon retirement Bert returned to his love of aviation, spending ten years constructing and modifying an experimental amphibian aircraft called the Glass Goose, which he flew. Bert also loved to play tennis, duplicate bridge, traveling the world, and especially spending time with Anne, his children, grandchildren, and great-grandchildren. He was a volunteer with the Mt. Soledad Memorial Association, an avid reader, a life-long learner.
Bert passed away on May 19, 2017. A Mass to celebrate the life of Bert Mawhinney was held on Thursday, June 8, 2017, at Mary Star of the Sea R.C. Church, in La Jolla, Calif. With Bert's passing, the reporting profession lost one of its greatest and most generous friends.
He was a man, take him for all in all. I shall not look upon his like again. – William Shakespeare, Hamlet, Act I, scene 2, line 186.
Martin H. Block, RPR (Ret.), Ph.D.
Past President, National Court Reporters Association
Punta Gorda, Fla.