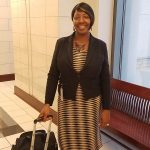 Currently resides in: Jacksonville, Fla.
Employment type: Freelance reporter in criminal court
Member since: 2002
Graduated from: Stenotype Institute
Theory: Thyra Ellis
What are your favorite briefs?
Instead of making briefs for two-stroke words, I try to make briefs for longer words, especially since criminal court uses a lot of the same jargon. One of my favorite briefs that I use is BEX (beyond and to the exclusion of all reasonable doubt).
Why did you decide to enter this profession and how did you learn about the career?
After graduating from college, I wanted to pursue a career in computers, but it was hard finding a job with computers as a recent graduate, especially since I had no experience. One day I was talking with a friend who was a clerk at a courthouse. I told her I wished I could find a job where I could just type all day and make money doing it. That's when she mentioned that I should take up court reporting, so that's how I got started in the court reporting field.
What has been the best work experience so far in your career?
I enjoy my career for so many reasons. When people ask me how I like being a court reporter, I usually jokingly tell them I love it because I get paid to be nosy. But in all seriousness, the best part about being a court reporter for me is the friends that I have made along the way. There is nothing better than having a great work family and a job you enjoy going to every day.
What was your biggest hurdle to overcome and how did you do so?
When I was a new court reporter, I did mostly civil litigation, so sometimes transcripts, in my mind, seemed to be a little bit challenging for me, especially when I would get a 100- or 200-page transcript. I felt that was a lot for me, that is, until I did a week-long trial by myself with six attorneys on the case and expert witnesses, etc. When the transcripts were ordered from all of the proceedings, I had over a thousand pages to transcribe. Needless to say, ever since then, there's been nothing too great for me to overcome transcript-wise.
What surprised you about your career and why?
The greatest surprise I've had in my career is meeting my husband through court reporting. I currently work in criminal court. Sometimes I would have to go to our first appearance courtroom. My husband worked as a uniformed bailiff in that courtroom, and that's where our happily-ever-after story began.
Have you had challenges to overcome in your profession? If so, what was the challenge and how did you overcome it?
I'm sure most court reporters have probably felt this way as well, but reading back was my biggest fear. No matter how confident you feel when you're writing on your machine, when they ask you to read back, panic kicks in — at least for me it did. Fortunately after court reporting for so many years, I've been able to overcome that fear by telling myself to stay focused and pretend that I'm reading out loud to myself. Now the fear doesn't set in until after I've had to read back.
Is there something else you would like to share?
Court reporting is an awesome job for me, but sometimes it can get a little hectic. One thing I enjoy doing, when the weather is right, is driving around in my convertible with the top down. A nice long drive with the family is very relaxing for me and it allows me the opportunity to spend quality time with my family as well.