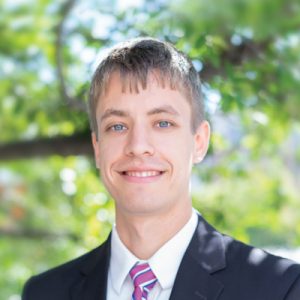 By Jordan Groves
Patrick Miller has been a freelance reporter in Auburn, Ala., for a little over two years. Originally from Daphne, he relocated to the Auburn/Montgomery area where he completed court reporting school in two years and three weeks. Patrick is the definition of calm, cool, and collected and has been an outstanding court reporter since day one.
Tell me a bit about yourself and why you chose to become a court reporter.
My name is Patrick Miller. I'm 29, and I've been a court reporter for two and a half years. I first got the idea of court reporting when I was at my mom's house eating dinner and talking about how I didn't know what I wanted to do with my life. She suggested that I ought to either get a degree in building science or become a court reporter. The next day, I called some local court reporters who all encouraged me to pursue the profession. One reporter told me when I graduated school to call him and he would share some of his backlog work with me. He also recommended Prince Institute in Montgomery, Ala. I called Prince and started school in January of 2013. Theory lasted a little under nine months, and I passed my last 225 Q&A test 15 months later. I was hired three weeks before I graduated. I learned that there is a vast need for court reporters compared to other occupations. When you graduate, you should have no trouble finding a job.
What was the hardest part of transitioning from school to the real world?
I found out when I started working that school does not prepare you for your first jobs. Lawyers, doctors, and expert witnesses will throw out terms you probably never knew existed. People don't always speak as clearly as they do in practice dictation in school. After beginning work, I found it's important to clearly know how to put together a title, appearance, and certificate page before you graduate.
What is the ultimate goal in your career as a court reporter?
My goal is to build court reporting into a profession that I will use the rest of my life. I can truly attest that court reporting is an awesome career that will take care of you. You can work as much or as little as you want, and there is great flexibility in hours.
You reported your first realtime job not long after you finished school. What were you feeling walking into that job?
Terrified. I told my office I wasn't ready to take a realtime job, but I would if it was the only option. They ended up putting me on the job. It was a medical malpractice case about Lidocaine with eight attorneys in the room. I was hearing medical terms and struggling to write them, and the plaintiff's lawyer was constantly watching my writing. At a break, the defense lawyers asked me to scroll back through 80 pages of testimony to find one of the witness's answers. At the end of the depo, the taking attorney even asked me to return for the next week's job. I realized that day that people don't know you are nervous unless you tell them you are.
If you could sum up your first year in one word, what would it be and why?
Learning. Every job you walk into is a different learning experience. The first year you will want to primarily do your own scoping, so you can concentrate on building your dictionary. After your second year begins, you can start hiring a scopist and taking more work.
What do you know now that you wish you'd known when you first started out?
Looking back I think it's important to stick to the same style writer and software during school that you will use in your work. When you graduate, you will be too busy to have to be learning new software and the feel of a new writer.
Do you have any advice for reporting students?
My advice to new students is just stick with it. Speedbuilding is muscle memory. The only reason you won't make it is if you decide to quit. For me, my machine practice came first in the morning. I would spend the first half practicing number and letter drills, then I would speedbuild the rest of the time. I would break my practice sessions into three or four one-hour sessions throughout the day, the last one before bed. Looking back, it was a commitment of time that has paid great rewards.
You've traveled some. Where has your most memorable trip been to?
I've had the opportunities to travel to a lot of different places. I was asked one day to fly to take a deposition in China. I did not have my passport at the time, so I couldn't go, but I have my passport now for next time. Every day is something new.
What's your "can't live without" item in your steno bag?
In my bag, I always carry an extension cord with a power strip. I carry a three-prong wall adaptor for the old law offices that do not have a three-prong wall outlet. I carry a Sony tape recorder that I use for backup in case my other audio fails. It is great at picking up sound, and I never go to a job without it. I always double-check my bag the night or morning before a job to make sure I have my writer, laptop, chargers, and cords.
Jordan Groves is a freelance reporter in Montgomery, Ala., and a member of the NCRA New Professionals Committee. She can be reached at jgrovescr@gmail.com.