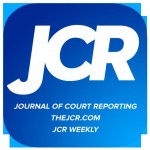 NCRA has selected the American Society of Association Executives (ASAE) Executive Recruitment Concierge Service (ERC) to assist with the identification and selection of candidates to be interviewed to fill the position of Executive Director and CEO. The position has also been posted on ASAE's career center.
NCRA's CEO Search Committee, which is comprised of reporters with diverse backgrounds, career paths, and geographical locations, will work closely with ERC in the search process. Members of the CEO Search Committee include:
Tiva Wood, FAPR, RDR, CMRS, Mechanicsburg, Pa.
Chris Willette, RDR, CRR, CRC, Wausau, Wis.
Sue Terry, FAPR, RPR, CRR, CRC, Springfield, Ohio
Christine Phipps, RPR, North Palm Beach, Fla.
Nancy Hopp, FAPR, RDR, CRR, CMRS, St. Louis, Mo.
Huey Bang, RMR, CRR, Pass Christian, Miss.
Chase Frazier, RMR, CRR, CRC, Murrieta, Calif.
Dave Wenhold, CAE, PLC, Washington, D.C.
The ERC is well known and respected in both the association and executive search communities as an excellent option for vetting executives. ECR will distribute the position announcement to various markets and communities, including the court reporting community, to solicit candidates to be considered for the job. Over the next several months, the ERC and the Search Committee will work in conjunction to identify, vet, and interview candidates. The Search Committee will then narrow the field down to two or three candidates to be submitted to the NCRA Board or Directors for the final selection.
Any comments or questions should be sent to the Interim CEO and Director Dave Wenhold at dwenhold@ncra.org.