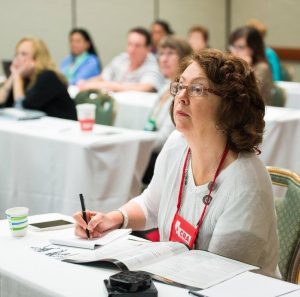 The Sept. 30 deadline for this year's CEU cycle is coming up quickly, but there's still time to earn a few more last-minute credits, both in person and online. Even if your CEU cycle isn't ending this year, these ideas can help you stay on track and possibly even get that requirement done early.
Attend a webinar or e-seminar
Webinars and e-seminars are a great way to learn some new skills in the comfort of your own home and, in terms of e-seminars, on your own schedule. There are three 90-minute live webinars scheduled for this September:
Realtime Streaming Made Easy with Pam Szczecinski on Sept. 6, 6:30–8 p.m. ET
The Strange Backgrounds of Familiar Words, Part 2, with Santo "Joe" Aurelio, FAPR, RDR, E.d., on Sept 13, 6–7:30 p.m. ET
CART Captioning in the Legal Setting with Saba McKinley, RPR, CRI, CSR, on Sept. 20, 9–10:30 p.m. ET
If none of these webinars fit your schedule, check out the NCRA e-seminar library for 60- and 90-minute sessions on topics that include business, CART and captioning, ethics, grammar and language, history, official reporting, personal development, realtime, technology, and more.
Attend a pre-approved event, including state association conferences
Many state associations and other court reporter–related organizations are hosting conferences and seminars in September. In-person events give you the opportunity to network with other reporters and captioners while earning CEUs. Most events are one to three days, and several of them are in the first half of the month. Events are scheduled in Arizona, California, Colorado, Illinois, Indiana, Kentucky, Maryland, Montana/Wyoming/Idaho, North Carolina, Oklahoma, Washington, and Wisconsin, as well as Alberta, Canada, this month. Check out the full calendar of pre-approved events here, which includes the dates, location (geographic or online), and number of CEUs.
Learn CPR or first aid
The American Heart Association, the American Red Cross, and other organizations often host seminars on CPR or first aid. Perhaps you can organize a few colleagues from your firm, court, or even your local area to team up for an event nearby. Court reporters and captioners have to be prepared for anything, so why not add safety to your list of skills? Learn more about the requirements for earning CEUs by learning CPR or first aid on NCRA.org/WaysToEarn.
Transcribe oral histories
Members who participate in the Oral Histories Program through the National Court Reporters Foundation (NCRF) may earn Professional Development Credits for their time. Members can apply up to 1.0 PDC to their CEU requirement per cycle. Transcribe a 30- to 90-minute pre-recorded interview of an American veteran, Holocaust survivor, or attorney who has provided pro bono services through Legal Aid. Many people find participating in the Oral Histories Program to be especially rewarding. "As court reporters, we sometimes are too focused on the financial side of what we do, but (volunteering) is giving back. Anyone thinking of participating in one of these events should just jump right in and do it. It's well worth it," said Kimberly Xavier, RDR, CRR, CRC, CMRS, CRI, an official court reporter from Arlington, Texas, and a U.S. Air Force veteran, who recently volunteered at NCRF's third Hard-of-Hearing Heroes Project initiative at the 86th Military Order of the Purple Heart 2017 Convention held in Dallas. Learn more at NCRA.org/NCRF/OralHistories.
Get credit for past events
You may have already participated in activities that have helped you earn CEUs or PDCs during the last year, and the only thing you need to do is fill out the proper form to get credit. If you promoted the profession at a career fair, law school, or other event; provided pro bono services; served on a state association board or committee (including the United States Court Reporting Association); or participated in a formal mentoring program, you may qualify for credit for your volunteerism. You can submit these CEUs and PDCs here.
Cycle extensions
If you need a four-month cycle extension (to Jan. 31) to finish those last CEUs, you can fill out the CEU extension request form by Sept. 30. Note that the deadline to complete CEUs or to request an extension is the same date.
View the full list of qualified continuing education activities at NCRA.org/WaysToEarn. View other continuing education forms here or view your current transcript here. If you have any questions, please contact the NCRA credentialing coordinator.