Currently resides in: Arvada, Colo.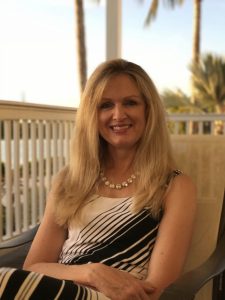 Employment type: Freelancer with Hunter + Geist, Inc.
Member since: 1985
Graduated from: Mile Hi College
Theory: Forrest Brenner
What are your favorite briefs?
SPOET (as opposed to)
OFD (off the top of my head)
RO*UF (which translates to *CHECK, and I can quickly and easily scan for all of my *CHECK portions and make corrections before submitting a rough draft)
Why did you decide to enter this profession and how did you learn about the career?
As a senior in high school, I was researching all the various options for my future education and career path, but was not sure which route I wanted to take. I always had an interest in the law and was captivated by the courtroom dramas I would watch on TV, but the prospect of many years in college did not appeal to me. I was employed as a hostess at a local restaurant during high school and met another employee who was working her way through court reporting school. I learned of the opportunity to work within the legal profession, being an integral part of the justice system as a court reporter. After a visit to a local court reporting school, I knew this would be the career for me!
What has been your best work experience so far in your career?
I was fortunate enough quite a few years ago to work on a case that took me to Osaka, Japan, for five weeks of depositions. It was a rewarding and challenging experience professionally to work with interpreters, attorneys, and witnesses from all over the world providing realtime translation. I also truly loved the experience of spending time in another country and being able to travel to different sites in Japan and soak up a little of the culture.
What was your biggest hurdle to overcome, and how did you do so?
My first court reporting job out of school was with a small freelance firm that had contracts with the State Board of Medical Examiners and a division of the federal government that prosecuted Superfund cases, which were lawsuits involving companies in the chemical and petroleum industries that had released hazardous materials into the environment. Being a small firm, there was no real mentorship program in place for recent graduates, and I was immediately thrown into reporting depositions in these cases. While I would not recommend this "baptism by fire" for a new reporter, I did learn quickly that my confidence in my abilities was a very important part of how well I could do my job. I continued to work to increase my speed and strived to pass the RMR. Knowing that I could write efficiently at 260 words per minute gave me the confidence to report depositions that required a high level of skill.
What surprised you about your career?
I have to say that 33 years after entering court reporting school, I am pleasantly surprised that I am still reporting today and thoroughly enjoying the choice I made to be a court reporter. In 1984 when I began school, there were rumblings at that time that soon this job would be obsolete, and tape recorders would be performing our work. I am grateful I decided to ignore those warnings; and when I hear the same things today, I just have to smile.
Is there something else you would like to share – a hobby, special interest, personal accomplishment, etc?
As court reporters, we unfortunately do a great deal of sitting during the course of our daily work. I try and make sure to spend as much of my free time as possible in more active pursuits. I am an avid runner and skier; and I have recently taken up cycling this summer, riding in the Courage Classic and raising money for our Colorado Children's Hospital. The 84-mile route took me through the beautiful Rocky Mountains, and it was a new challenge I truly enjoyed.