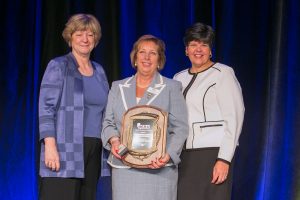 NCRA's Distinguished Service Award (DSA) recognizes the distinguished work and service of an individual member for the benefit of the court reporting and captioning professions, including service to NCRA as a member, a committee member, a director, or an officer of the Association. It is also often viewed as the highlight of the recipient's career. The deadline to nominate a candidate is Feb. 9.
"What an honor to be NCRA's 2017 DSA recipient! The thrills of that day won't soon be forgotten — seeing my family members appear as if by magic as my name was announced, the applause of my peers, the sentimental video created by my good friend Bill Weber and my father, and my own 'aha' moment when I realized my husband, Ed, had kept this wonderful secret from me," said Nancy Varallo, FAPR, RDR, CRR, a freelance reporter and firm owner from Worcester, Mass. Varallo is also a past president of NCRA.
DSA recipients are also recognized for other displays of notable work, including contributing to the JCR or service at a state court reporters association or in the field of public relations or public affairs. Award winners are recognized at the NCRA Convention & Expo.
"I realized how my involvement in NCRA followed the example of so many leaders who served before me. I felt a real sense of gratitude for the mentors who had helped me along the way: first my dad, my court reporting mentor; and my mom, my feminist role model," Varallo said.
"I also realized the gratitude I had for the inspiring leaders I've been privileged to know throughout my almost four decades of volunteerism. Those leaders blazed the trail! They set the bar for excellence. They taught me the responsibilities that come with commitment, the importance of doing my best, always, and to be ever mindful that a leader is always a role model. I take that seriously. I've sought to be a good and thoughtful leader, and I hope I've helped to empower others to take the reins of leadership. That would make me happy," Varallo added.
Voting members of NCRA or of recognized court reporting associations may submit nominations through an online form, by email to dsa@ncra.org, or by mail to NCRA, Attn: DSA, 12030 Sunrise Valley Dr., Suite 400, Reston, VA 20191. Nominations must include information supporting why the nominee should be considered. DSA candidates cannot be an active member of the DSA Committee or the NCRA Board of Directors. The deadline to nominate a member for NCRA's 56th Distinguished Service Award is Feb. 9.