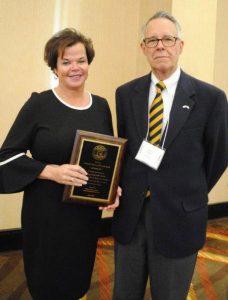 Last June, NCRA member Deborah Weaver, a freelance court reporter and owner of Alaris Litigation Services in St. Louis, Mo., announced the launch of the Dollars for Depositions Program that pledged $21,000 in support of the Missouri Coalition for the Right to Counsel (MCRC). The MCRC is a nonprofit organization that facilitates and encourages law firms to volunteer their attorneys to represent clients of the Missouri public defender office to help ease the system's difficult caseload. Through MCRC's work, young attorneys are able to gain case and trial experiences.
What prompted you to become involved with the MCRC?
The Missouri Public Defender's office is one of Alaris Litigation's long-time clients, and we've seen firsthand their difficulties and frustrations of managing an overwhelming caseload. Because of tight funding and stretched resources, public defenders are currently only able to depose four percent of cases and take one percent of them to trial, meaning many individuals don't receive the representation they need and deserve.
When the MCRC was proposed, Alaris was one of the first organizations to raise their hand and say, "Yes, we'll help!" I was incredibly impressed by MCRC's mission to bring swifter justice to the indigent defender as well as volunteer efforts of our partner law firms in providing pro bono counsel. Our philosophy at Alaris Litigation is all about providing needed support to our legal system, so this organization is a natural fit.
How long have you been involved in this work?
We've been involved with MCRC since the very beginning. We kicked off our involvement with the development of the Dollars for Depositions Program, which will provide up to $21,000 in funding for deposition services. This was something my team and I rallied behind, and we're proud to be "charter partners" in leading this much-needed change in Missouri's justice system.
What are some of the other community organizations you support?
For more than 23 years, Alaris has supported the Motion for Kids organization, which is a nonprofit that holds an annual holiday party for children in the foster care system or who have been severely impacted by the criminal justice system. Alaris distributes gifts for the kids at the Santa Stations and helps with visits from Santa.
We've supported the Let's Start program for more than 12 years, packing lunches for children to take on the bus when they go to visit their mothers in prison. We also support the Center for Women in Transition, which provides resources and community support to women who have recently been released from prison.
What are the greatest benefits personally and professionally to being involved in community service activities?
I'm a firm believer in using our unique talents to serve the community in which we live. At Alaris, it's our privilege to give back to the city that supports my company and my employees. On a personal level, it's incredibly rewarding to bring hope, assistance, and joy to someone's life.
Whether we're helping a defendant finally go to trial with the representation they need, or simply giving kids a merry Christmas, we're improving their lives for the better, and that's truly a wonderful thing.
Why is giving back to the community important?
Volunteering is an integral part of me and always has been. I see it as "paying it forward," using my talents to help make the world a better place one little effort at a time. It's something everyone should do, no matter how large or small.
What advice would you give to someone who is seeking to become involved in community service activities?
Involvement isn't something you just do. It's something you are. You have to want to do it, not because you feel like you have to, but because it's important to you as a person or an organization. Whether it's helping break the cycle of incarceration or beautifying your neighborhood, find what inspires you and make it an active part of your life
The JCR Weekly will run a series of interviews featuring NCRA members who are giving back to their community in addition to an article in the April issue of the JCR.