For the first time in the past four years, the National Committee of State Associations (NCSA) friendly challenge among state associations and individuals to spread the word about the benefits of a career in court reporting or captioning has ended with a tie for first place. Earning first place honors were Cindy Isaacsen, RPR, an official from Olathe, Kan., and Kristen Wurgler, RPR, a captioner from Cottage Grove, Wis. Isaacsen and Wurgler will receive free webinars from NCRA. The challenge ended with the culmination of NCRA's 2018 Court Reporting & Captioning Week, which was celebrated Feb. 10-17.
NCRA member Lisa Wagner, RPR, an official court reporter from Highlands Ranch, Colo., earned top honors in this year's challenge. She hosted 10 school career fairs. As grand prize winner, Wagner has earned a complimentary registration to the NCRA Convention & Expo being held Aug. 2-5 in New Orleans, La.
The JCR Weekly reached out to learn more about what motivates this year's first prize winners to promote the profession.
Build a network
To help promote the profession, Isaacsen attended a number of career fairs in the Kansas City metro area and was interviewed by her local television station.
"I have been attending career fairs and talking about court reporting for a long time, so a lot of the same schools I have been working with contact me yearly to attend their fairs," she said.
"The television interview is an interesting story. The TV anchor of our local station was a victim in a criminal case, and I was one of the reporters assigned to the case. I made contact with her. We built a relationship through that contact and we have stayed in touch. So when Court Reporting & Captioning Week came around, I asked her about doing a television spot about the shortage of reporters."
The news reporter also noted in the interview that Isaacsen was offered a freelance job as a result of the research she was doing in preparation for the story about the number of openings available for court reporters in Kansas and Missouri.
Another added benefit of Isaacsen's television appearance was that, once the piece aired, participants in the local A to Z Intro to Machine Steno program jumped from three participants to more than 20, and a second television station also aired a piece about the shortage of court reporters. That story was filmed at the local courthouse, Isaacsen added.
To help round up volunteers to staff career fairs and step into media interviews, Isaacsen said you need to just keep asking people around you. She also advises taking a friend as well as your computer and steno machine so you can feel comfortable just talking about what you do and demonstrating how you do it.  Students love to see their words come up on the court reporter's laptop, and while they will pick up handouts and candy from your table, they really like to just touch the keyboard on the steno machine, she said.
"Teenagers need to have another option when it comes to careers. The idea of attending a four-year college and walking away with huge debt and a low-paying job is scary to them and their parents. They need options and they need to know that there are other jobs available, and I think court reporting provides them so many opportunities. I always hear students saying, that is so cool, when they see what I do. They also say they have never heard of court reporting or if they have, that they didn't realize it was the computer doing all the work," she said.
One of the school career fairs Isaacsen attended this year was held at a middle school. To help students feel more comfortable, she ditched the traditional suit for a younger look.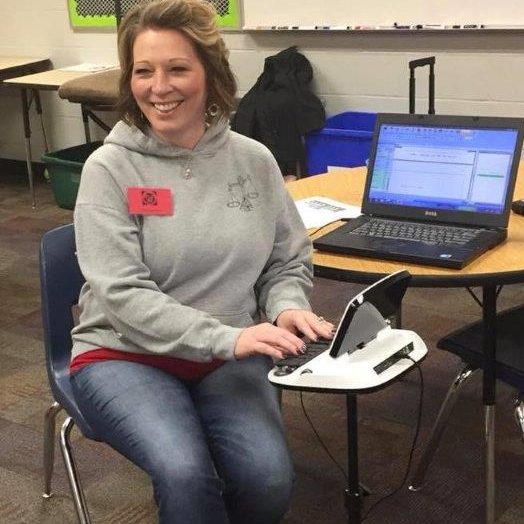 "I get so excited about what I do, and it shows. The last career day I did was at a middle school, and I decided that they would listen better if I looked more like them. So I wore Converse sneakers, skinny jeans, and a sweatshirt that said 'Court Reporters always get the last word.' And they asked more questions, approached me more, and were more interested in what I had to say when I looked like them," Isaacsen said.
As for the future, Isaacsen said she would like to reach out to more high school students since they are the group beginning to research their future. She'd also like to spend more time getting in contact with high school counselors and making an impact with them.
"Counselors have a lot of challenges these days, but I would really like to get in with the local counselors' organizations and have them identify some specific students who they feel would be perfect for this career," said Isaacsen.
Showing off captioning
Wurgler, who tied Isaacsen for first place in the NCSA Challenge, is one of several staff CART captioners at the McBurney Disability Resource Center at the University of Wisconsin in Madison. She and coworkers hosted a CART trivia contest, among other activities. Each day a different question was posted on a whiteboard, along with several hints regarding the answers. The McBurney staff member with the most points on the scoreboard at the end of the week won a gift card to a specialty grocery store on the school's campus.
During the week, Wurgler also gave a brown bag presentation to the Division of Student Life entitled "What is CART at UW-Madison?" The topics discussed in the presentation included delineating broadcast captioning from CART, some information about the student population who receives CART services on campus, a tour of the machinery including all hands on the steno keyboard for participants as they learned how to stroke 'Bucky,' staff qualifications, and when CART should be provided for a division event.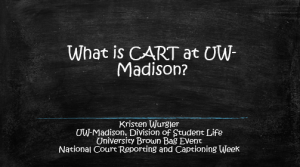 "Overall, our staff and division felt a greater understanding and appreciation for the complexity of CART here at UW-Madison. So even though we were not directly involved in enticing new students into the court reporting, broadcast captioning, or CART professions directly, it was an educational moment that drew attention to how CART can benefit an entire campus community.  Even more important, we all had fun while learning how CART benefits students at our beautiful campus," Wurgler added.
Wurgler said her goal for next year during Court Reporting & Captioning Week is to ensure that captioning is always turned on at every television on the campus, including in the dining halls, the residence halls, and the educational buildings. The captions, she said, will not only benefit the school's deaf and hard-of-hearing students but also the many international students on the campus whose first language is not English and who may find reading English captions easier than hearing the language initially.
"Imagine an extraordinarily loud environment like a dining hall on a college campus of 50,000 students with glassware, silverware, and trays clanking all the time, let alone the conversation levels. You can imagine the important safety messages that students will have the benefit of seeing on the TVs even before they can hear them. Unfortunately, receiving these important safety messages is a vital issue for schools of every level in our country during these sad times in our country," Wurgler said.