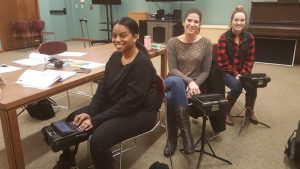 Andrea Kingsley, RPR, of Easton, Conn., first learned about NCRA's A to Z Intro to Machine Shorthand program at the 2016 NCRA Convention & Expo in Chicago when Nancy Varallo, FAPR, RDR, CRR, a firm owner from Worcester, Mass., presented the idea during a seminar. "I signed up [as a leader] right away," says Kingsley. "It's a brilliant idea."
The A to Z program is a six-to-eight week presentation to a small group of participants considering court reporting as a career. During the program, the participants learn to write the alphabet and numbers in steno on an actual steno machine. The presentations are led by court reporters and captioners who have signed up with NCRA to volunteer and offer these sessions.
So far, Kingsley said she has had 11 people interested in her A to Z program. "I found people through the NCRA listserv that sends out contact info of interested participants by state. I sent out an announcement to our state membership, and I posted it in the library where I held the sessions," says Kingsley, who just wrapped up a session earlier this week.  "The students all received a certificate and letter of recommendation. They all plan on attending an online school."
The A to Z program is a unique way to give participants the experience of using a steno machine without investing in schooling or the cost of equipment, although becoming a court reporter will require a greater commitment. For the Connecticut-based A to Z program that Kingsley led, Tracy Gow, RPR, an official and freelance reporter from Middlebury, and a past president of the Connecticut Court Reporters Association (CCRA) reached out to ProCAT about providing machines for program participants. ProCAT offered to donate the machines; CCRA only needed to pay for shipping.
"We got 10 machines but didn't need that many," says Kingsley. "When I saw Renee Leguire's request for machines on the listserv, I got in touch with her, and we were able to provide five machines to the Albany area A to Z.  Renee kindly split the shipping cost with CCRA." Leguire, RMR, CRR, a firm owner from Latham, is hosting an A to Z program in New York.
"A huge thank you to Grace Molson and ProCat for lending the Connecticut Court Reporter's Association 10 steno machines for use in A to Z Discover Steno programs," says Kingsley.