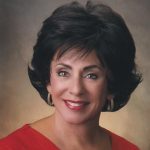 Freida Sclafani Williams died on June 3, 2018, after a long fight with cancer. Born on Aug. 10, 1944, in Deland, Fla., the only child of Rosie and John Sclafani, Freida was full of ambition. As a young girl, Freida was a talented dancer, with the skill and dedication to make this her profession. Instead, she went on to forge one of the most successful court reporting careers in Florida.
Court reporting piqued her interest at an early age. When she was 9 years old, she placed the carbon between the sheets of paper to help her mother type transcripts for the court reporting firm then-named Rosie Sclafani and Associates. After attending the University of South Florida, she became the judicial assistant to former Circuit Judge A.H. Lane. In 1962, Freida enrolled in the Stenotype Institute of Jacksonville and joined her mother's firm as a court reporter in 1971.
In 1979, Freida was appointed a state official court reporter and served in that position until 1995. During this time, she also oversaw the daily operations of the Lakeland office. In 1980, the name of the firm was changed to Sclafani Williams Court Reporters, Inc. Five years later, Freida became president of the company to continue her mothers legacy once Rosie fell ill. Under Freida's keen management, the business was the first in the area to integrate new technologies, such as video conferencing and digital reporting, and by the end of her career, she had opened 6 office locations.
Among her many recognitions and achievements, Freida served as president of the Florida Court Reporters Association (FCRA) from 1999-2000 and was awarded the prestigious Distinguished Service Award by FCRA in 2002. She was the recipient of the National Association of Women's Business Owners "Women of Distinction Award" and Sclafani Williams Court Reporters, Inc., was listed in the Tamp Bay Business Journal's top 75 women-owned business in the state of Florida in 2003 and 2004. She also served as vice president of the Florida Official Court Reporter Association, an organization committed to court reporting education.
More often than not, Freida wore black, red, and white with a sparkling swan pin, symbolizing her love of Lakeland. She will be remembered for her commitment to service both the court reporting and Polk County communities while helping others achieve their dreams. Throughout her 36-year career, she mentored and encouraged countless court reporting interns — teaching them business strategies and best practices. In addition, she was heavily involved in the Society for Technological Advancement of Reporting, eventually becoming president in 2007, and was part of the Daughters of the American Revolution, the National Court Reporters Association, the National Association of Women Business Owners, the Lakeland Chamber of Commerce, and the National Network Reporting Company. In Polk County, she helped fundraise for the restoration of the historic Polk Theater, supported the Society for the Prevention of Cruelty to Animals, and provided pro bono video conferencing services to the Polk Museum of Art.
Freida believed that being involved in the community she loved was her strength: "You never know how strong you are until being strong is your only choice." She will be missed.
Tom Crites
Savannah, Ga.