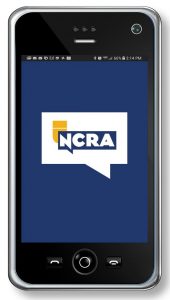 Before heading to New Orleans for the 2018 NCRA Convention & Expo, be sure to download the official NCRA convention app to get the most out of the event.
Downloading the 2018 NCRA Convention app is easy. Visit the iTunes App Store or Google Play and search "National Court Reporters."
Logging in to the app is easy.
If you registered for the Convention & Expo with an email, use your email as username  and for the password, use CV2018.
If you did not use an email address to register for the event, log in using your first initial and last name (e.g. Jane Smith's login would be "jsmith") with the password CV2018.
After you've logged in the first time, NCRA recommends that you change your password from the default password of CV2018 to one of your choice to ensure that access to your app remains secure.
If you don't want to download the app, you can access the web version of it via the following URL: tripbuilder.net/html5/ncra17-18.
Session attendees will need the mobile app to scan their sessions for CEU credit. To do so, be sure to allow the app to access your camera so that you are able to scan QR codes and register for sessions.
Don't wait. Download the 2018 NCRA Convention & Expo app now! For more information about the app's features, be sure to review the official Mobile App Guide.
App users who have additional questions should contact meetings@ncra.org.