On September 30, NCRA's 2018 education cycle will come to an end. NCRA members with cycles ending in 2018 have a number of quick and easy ways to earn CEUs in the time remaining including NCRA e-Seminars. Here are the 12 newest NCRA e-Seminars.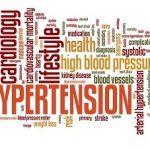 The Most Important Medical Terms, Part I
In the course of their duties, court reporters encounter a torrent of words. Don't get stumped by these medical terms. In Part I of this two-part series, Dr. Santo J. "Joe" Aurelio gets you started exploring the world of medical terminology.

The Most Important Medical Terms, Part II
What is an oophorectomy? How do you pronounce ischemia? Dr. Aurelio brings his expertise in language and words to the realm of medical terminology in Part II of this popular series.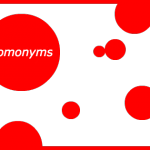 Homonyms and Pseudohomonyms
Homonyms are quite difficult to use accurately every single time. Capturing and transcribing with a score of 100 percent of all of the approximately 50,000 words that many reporters take every day is a formidable task.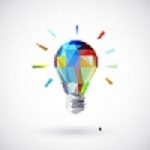 Old Ideas Are New Again
Outfluence, with its focus on others, is not a new idea. It is an old idea for a new generation, and its time is now. Popular presenter Al Betz discusses 10 ways that you can bring positivity, inspiration, and vision into your work and your life.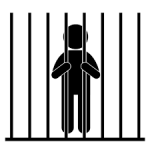 The Strange Case of the Boston Strangler
Dr. Aurelio, a reporter on the DeSalvo case, discusses many salient aspects regarding DeSalvo, attorney F. Lee Bailey, and other principals (including a world-renowned psychic) in this strange case.

Maximizing Your Business Value
This webinar focuses on creating short-term profits and business value as avenues to maximizing long-term profitability and enterprise value at exit.

Have Writer Will Travel
An informational and humor-filled instruction outlining the dynamics of work in the international realm presented by court reporter Jason Meadors, FAPR, RPR, CRR, CRC.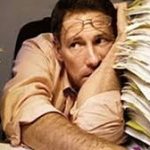 How to Perform Under Pressure
Pressure at work and at home can be everyday occurrences. Learn how to harness pressure and rise above it to perform at your very best.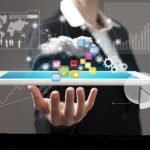 Redesigning Your Website without Crushing Your Google Rankings
At some point in time, every website will go through some form of a redesign. This seminar will show you how to avoid the most common problems when launching a redesigned website.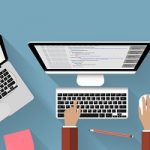 Tech Tips & Tricks
Veteran tech speaker Keith Lemons gives a presentation full of the latest tips and tricks for setting up realtime connections, troubleshooting equipment glitches, and packing your court reporting bag.

Mindful Communication in Today's Workplace
Al Betz, a successful court reporter, author, and community leader, shares the essential principles of mindful communication, including how your body language and facial expressions can help or hinder your communication.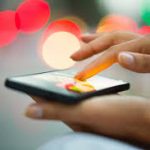 Be Your Clients' Superhero with Expedite
Learn how the revolutionary Expedite app will mobilize legal support services, empower providers, and help us reclaim our profession.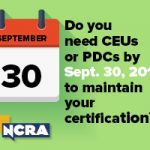 Learn more ways to earn CEUs by September 30.
If you will not complete your CEUs by September 30, you may request a 4-month extension for your continuing education deadline from September 30 to January 31 of the following year. By September 30, complete the CEU Cycle Extension form and pay a $99 processing fee.
You can view your transcript or submit CEUs and PDCs online. If you have recently attended a seminar, submitted an individual request for credit, or applied for a cycle extension, the event may not yet be reflected on your transcript. Please allow 8-10 business days from the date of submission for credit to appear on your transcript. In cases where a third-party seminar sponsor reports attendance to NCRA, the sponsor may take up to 30 days after the event to submit credit.
If you have any questions, need assistance with identifying upcoming continuing education opportunities, or need assistance checking your CEU status, please contact our Member Services and Information Center at 800-272-6272 or continuinged@ncra.org.