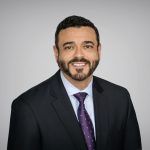 Below is the fifth in a series of monthly featured words to help captioners build their dictionaries and knowledge. The words for this series are being provided by Steve Clark, CRC, a captioner from Washington, D.C. and NCRA Board member. Clark captions for Home Team Captions and covers the Baltimore Ravens NFL team  and the Washington Nationals baseball team.
Our term this month, flea flicker, comes from football.  In the origin note below is a direct quote from SI.com telling us who is credited with creating this play and with coining the phrase.
---
Flea Flicker
(football)
Definition
In football, a flea flicker is a trick play that is designed to fool the defensive team into thinking that the play is a run instead of a pass.
After the ball is snapped to the quarterback, he then hands off or laterals (a sideways or backwards pass) the football to a teammate, who then runs towards or parallel to the line of scrimmage. Before the running back crosses the line of scrimmage, he laterals the football back to the quarterback, who then looks for an eligible receiver downfield to throw a pass to.
If the defensive players think this is a running play, they will leave their defensive positions guarding against the pass to run upfield and cover the running back, leaving the quarterback free from any immediate pass rush, and leaving receivers potentially open to catch a pass.
Usage     
"Brady with the lateral to Moss, Moss back to Brady.  They're going for the flea flicker!"
Origin
From SI.com: "The play and its name are both credited to legendary University of Illinois coach Bob Zuppke, who intended the phrase to evoke the quick, flicking action of a dog getting rid of fleas."  According to Coach Zuppke, he introduced the flea flicker while coaching at Oak Park High School in 1910.