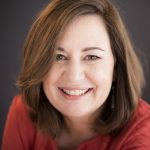 Eunice Carpitella, MSOD, PCC, a professor at the Wharton School of the University of Pennsylvania, will lead a hands-on workshop at the 2019 NCRA Business Summit titled "Guts, Grit, and Glory: Strategies and insights for transforming your selves, teams, and businesses."
At the core of this workshop is the practical idea that simple shifts in our routine patterns of interaction and mindset make it possible for business leaders to include, engage, and unleash everyone in solving problems, driving innovation, and achieving extraordinary outcomes.
This workshop is highly experiential and will comprise a multitude of learning modalities to include an interactive and informative presentation, round table discussions, individual reflection, and opportunities to connect at large by tapping into the expansive and talented resources among all participants. Attendees will be inspired to practice new behaviors of personal courage, innovation, and inclusion that they can implement upon their return to the workplace.
Eunice Carpitella biography
With more than 30 years of management consulting and investment industry experience, Carpitella founded Transformative Dynamics, LLC, in 2011. She works in partnership with senior executives as well as emerging and high potential leaders in creating, implementing, and executing new futures that hold the promise of growth and sustainability for individuals and organizations.
Earlier in her career, Carpitella was a senior vice president of an investment advisory firm, where she was instrumental in growing and developing the firm from a start-up to a viable and sustainable growth business. During her tenure, Carpitella was responsible for new business development and relationship management nationally. Additionally, she facilitated and led programs for a global training and development firm, where she worked with thousands of individuals on leadership development, high performance, productivity, and effective communication.
Carpitella received an M.S. in Organizational Dynamics from The University of Pennsylvania and a B.A. in English from Arcadia University. She is designated as a professional certified coach through International Coach Federation where she recently served on the Board of Directors, Philadelphia Chapter. She also received a Rotary International ambassadorial scholarship to Queensland, Australia, and finds that travel is the elixir of life.
Other highlights of the 2019 NCRA Business Summit will include an opening networking reception, compelling business panels, and a Super Bowl Party to close out the event Sunday night. Early registration rates are currently in effect.