By Lisa Knight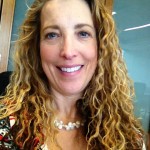 Who isn't afraid of mistrans or untrans when writing realtime? I'd be lying if I didn't admit that I am always a little nervous for the first five minutes of any deposition – especially when they enter their appearances for the record at an unintelligible 400 words per minute with their eyes glued to the realtime screen (just to see if you got it right)!
I always felt terrified that if counsel saw my mistakes, I would be exposed as the fraud that I truly was. I've later come to realize the Imposter Syndrome is quite common! Of course, no one is perfect, but if I have errors in my transcripts, will they think I am not competent to handle the deposition/arbitration/trial?
Part of my confidence-building plan from the very beginning of my career was to get every certification, accreditation, or training offered to help me be the very best realtime reporter I can possibly be! NCRA has helped me every step of the way, whether with the CRR (Certified Realtime Reporter), the Realtime Systems Administrator certificate, or the many seminars/webinars they offer. I consider myself a lifetime learner, and NCRA gives me the tools to accomplish that and more!
Lisa Knight, FAPR, RDR, CRR, is a freelancer and agency owner based in Littleton, Colo. She hold the Realtime Systems Administrator certificate. She is a member of NCRA's Technology Committee.