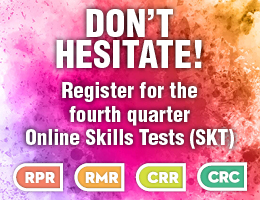 With NCRA's new certification fees set to go into effect in January 2019, now is the time to take advantage of your chance to pass one of NCRA's skills tests at 2018 prices.
NCRA certifications are highly rated by members. Not only do certifications help maintain standards of practice within the professions, but surveys show that those who have earned NCRA's certifications are highly valued in the marketplace. The exams that require passing a skills test — the RPR, RMR, CRR, and CRC — are nationally recognized in the professional marketplace.
NCRA strives to keep fees low for all members, especially for certification, which, for some people, can be a requirement to get work. Online skills test fees have had no increase since the inception of online testing in August 2015. Effective January 2019, all online Skills Test registration fees will increase by $5 in all categories.
Don't let this opportunity escape you. Register for the skills tests today and ring in the new year with a new certification!