By Matthew Barusch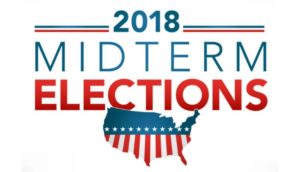 On Nov. 6, the American people cast their ballots for a variety of federal, state, and local elections, with turnout surpassing that of the last two midterms in 2010 and 2014. As of this printing, the Democrats have taken control of the U.S. House of Representatives for the first time in eight years, holding at least 234 seats, and Republicans currently holding 201 seats; three races are still uncalled. The Republicans held their majority in the U.S. Senate, having flipped three red state seats held by Democrats. A few House and Senate seats have yet to be called, but these facts are beyond dispute: The Republicans maintain a slim majority in the Senate, while the Democrats won control of the House.
The House of Representatives
The Democrats picked up 37 seats in the House of Representatives, largely in suburban districts. This means that Democrats will have an almost 30-seat majority in the House in the 116th Congress beginning Jan. 3, 2019. Some of the flipped seats come in swing districts that have slowly started leaning Democratic over the last few years. This trend was exemplified by the election of Democrat Lucy McBath in Georgia's 6th district. Current Rep. Karen Handel was elected in a special election against Jon Ossoff in 2017 by a margin of approximately 3.5 percent. McBath beat Handel just 16 months later by just over 3,000 votes, or about 1 percent.
Another trend this year was the unprecedented number of women elected to represent Congressional districts. More than 100 women will now be serving in the House, the most ever in the history of the United States. Many of these newcomers unseated longtime members, such as in Virginia's 7th district where Democrat Abigail Spanberger won over incumbent Republican Dave Brat.
A third trend to watch showed that increasingly progressive candidates, exemplified in New York's 14th district where Alexandria Ocasio-Cortez won against the more moderate Rep. Joe Crowley this June in the Democratic primary, were capturing votes.
The Senate
The Senate will remain in Republican control for the next two years. As of this printing, Republicans have picked up at least one seat overall, increasing their majority to 52 seats. In a few red states, Republicans won over sitting Democrats: Missouri's attorney general Josh Hawley (R-Mo.) beat Sen. Claire McCaskill (D-Mo.); Rep. Kevin Cramer (R-N.D.) won over Sen. Heidi Heitkamp (D-N.D.); and businessman Mike Braun took over the seat occupied by Sen. Joe Donnelly (D-Ind.). In one of the most expensive races of the cycle, Gov. Rick Scott (R-Fla.) beat Sen. Bill Nelson (D- Fla.) by roughly 10,000 votes out of more than 8 million cast.
There were a few surprises: In Arizona, Rep. Kyrsten Sinema (D) defeated Rep. Martha McSally (R) to become the state's first female Senator and the first Democrat elected to the Senate from Arizona in 30 years. Also, in Nevada, Rep. Jackie Rosen (D) beat out incumbent Senator Dean Heller (R).
The last remaining Senate race was decided was in Mississippi, where appointed Sen. Hyde-Smith was forced into a run-off with former State Agriculture Secretary Mike Espy. When the final votes were in on November 27, incumbent Republican Cindy Hyde-Smith won reelection over Democrat Mike Espy by 8 percent.
State changes
At the state level, Democrats also made some gains overall, flipping seven governorships and picking up hundreds of seats in state legislatures nationwide. Two of the most hotly contested races were called almost two weeks after November 6, with Republicans prevailing in both the Georgia and Florida gubernatorial races after provisional ballots were counted.
What does it all mean?
What does this mean for governing during the next two years?
Following changes in the Trump administration and statements from members of both the House and Senate, we can expect intensified focus on the ongoing Special Counsel investigation.
While we will undoubtedly see legislative focus in the House on liberal agenda items such as gun control and healthcare, legislation on these issues will likely be stalled in the Senate.
Likewise, it will be difficult for Senate Republicans to pass legislation through a Democratic House that is too left-leaning.
A few small bipartisan legislative items under discussion, such as some type of infrastructure package or legislation on digital privacy, could move forward.
In the Senate, expect to see increased activity on judicial confirmations. One of the major objectives of the Republicans in recent years has been to appoint conservative judges to the courts. Now that Republicans have a larger majority in the Senate, we can expect that the Senate will continue to work on confirming President Trump's judicial nominees at an increased pace.
How can we expect these results to impact the court reporting and captioning professions?
NCRA's Government Relations Department is optimistic about what the results mean for NCRA and its legislative agenda. First, it is important to note that the vast majority of NCRA's congressional allies have won re-election, including members of Congress such as Rep. Bradley Byrne (R-Ala.), Rep. Brett Guthrie (R-Ky.), Rep. Ron Kind (D-Wis.), and Rep. Jimmy Panetta (D-Calif.). Second, the House of Representatives is likely to address some legislation that NCRA supports, such as the Training for Realtime Writers Grant, a program included in the Higher Education Act (HEA) that funds schools teaching realtime. The HEA is long overdue for reauthorization, and we are optimistic that the House will bring this measure up for consideration. Third, another component of the 2019 Legislative Plan recently approved by the NCRA Board of Directors includes introducing legislation that would require court reporters to be used to create a record in federal capital case trials. The pursuit of these requirements, the first of its kind, is likely to be received favorably by the House of Representatives in 2019.
What is the next step for me?
It is very important for all of us to engage in our government and political spheres, not just as court reporters, but as Americans. I'd like to thank each and every person who voted in the 2018 midterm elections, and I hope that you will continue to remain involved and engaged in protecting the professions. One way that you can do that is to attend Boot Camp on May 5-7, 2019, which will teach you about the nature of politics and how to advocate for the court reporting and captioning professions. You can also contribute to the NCRA Political Action Committee (PAC), which utilizes your contributions to help elect and re-elect members of Congress who support the professions of court reporting, captioning, and legal video. If you have any questions about the midterm election results, Boot Camp, or the PAC, please contact me at mbarusch@ncra.org. Remember, the best tool that the court reporting and captioning professions have in their advocacy arsenal is you!
Matt Barusch is NCRA's Manager of State Government Relations. He can be reached at mbarusch@ncra.org.